Posted on 08/06/2019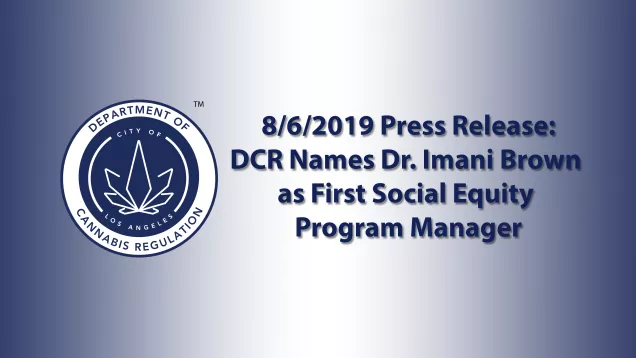 For Immediate Release: August 6, 2019
Contact: Leslie Mylius
Los Angeles Department of Cannabis Regulation Names Dr. Imani Brown as City's First Social Equity Program Director
Los Angeles - The Los Angeles Department of Cannabis Regulation (DCR) has named Dr. Imani Brown as the City's first Social Equity Program Director. 
As part of the Department's licensing and regulatory authority over Commercial Cannabis Activity in the City of Los Angeles, DCR is responsible for the implementation of the Cannabis Social Equity Program (SEP). Los Angeles is one of the few local jurisdictions in California that offer such a program, which is also the first and largest of its kind in the nation. The Social Equity Program will provide business, licensing, compliance, and technical assistance to verified applicants with the goal of promoting equitable ownership and employment opportunities in the cannabis industry in order to decrease disparities in life outcomes for marginalized communities, and to address the disproportionate impacts of the War on Drugs. 
The Department is extremely grateful to Mayor Eric Garcetti, Council President Herb Wesson, the members of the Los Angeles City Council Budget and Finance Committee, and the members of the Los Angeles City Council for their leadership and commitment towards funding the Department of Cannabis Regulation's FY 19-20 budget request of $3 million for the Social Equity Program's Business, Licensing and Compliance Assistance Program. Funding the Social Equity Program is an investment in long-term revenue generation for the City and, most importantly, a commitment to creating an equitable outlook for the City's commercial cannabis industry.  
In anticipation of these resources, DCR moved swiftly to issue a Request for Qualifications (RFQ) on June 5, 2019 to retain on-call business development services for the City's Social Equity Program. Through this process, DCR will identify one or more consultants to develop and conduct business development curriculum, training, business, licensing and compliance assistance, and related services intended to support applicants and licensees eligible for the Social Equity Program. The deadline to respond has since ended; Dr. Brown and the Department are currently in the process of evaluating submittals. DCR may release subsequent RFQs to build robust and dynamic programming in the future.
"After conducting a thorough search to find a candidate who can expertly champion the goals of the Social Equity Program, I am confident that Dr. Brown is just that person," said DCR Executive Director Cat Packer. "I look forward to working with her in ensuring that community members adversely affected by the failed war on drugs have equitable access to ownership and employment opportunities in our local cannabis industry," Packer added.
In her new role, Dr. Brown will develop and manage the Social Equity Program business and workforce development programming intended to help verified SEP Applicants own and operate lawful cannabis businesses in Los Angeles. Dr. Brown will also manage the program's contracts and partnerships, collect data to refine and improve the SEP, and develop SEP workshops and other educational programs to support applicants. 
A Los Angeles resident, Dr. Brown is an urban policy and planning expert whose work is focused on small business development, sustainable urban land use practices, and public policy. Dr. Brown holds a Doctorate from USC in Policy, Planning, and Development and has worked for over twenty years in the community and government relations field, directing billions of dollars of economic development in Southern California. She previously served as the Executive Director of External Partnerships of Government and Civic Engagement at USC; co-founded the Vendor Relations Department for LAMTA where she negotiated multi-million dollar professional service contracts; and served as Chief Deputy of Business, Transportation and Housing for California's 37th Congressional District, where she was responsible for developing small business incubators and opportunities for communities impacted by the Alameda Corridor.
"I am excited to serve in this pivotal role at DCR to provide our community members access to economic opportunities through the development of training and technical support necessary for successful business ventures in the City's cannabis industry," said Brown. "I am grateful for this exciting opportunity to positively transform people's lives."
The initial Social Equity Verification Process was open from May 28 to July 29, 2019, in which approximately 2,000 applicants submitted verification documents. Eligibility applications are being reviewed on a rolling basis so that all applicants who submitted verification documents will be informed of their status before the start of Phase 3 Retail Round 1 Licensing on September 3, 2019. Verified Social Equity applicants will be eligible for priority application processing, allowing them to be some of the first-to-market in the City's developing cannabis industry. Verified SEP Applicants may also qualify for fee deferrals, technical assistance, business assistance, and other programs designed to help business owners learn the specifics of operating a licensed and compliant cannabis business in the City of Los Angeles.  
###