Posted on 09/26/2022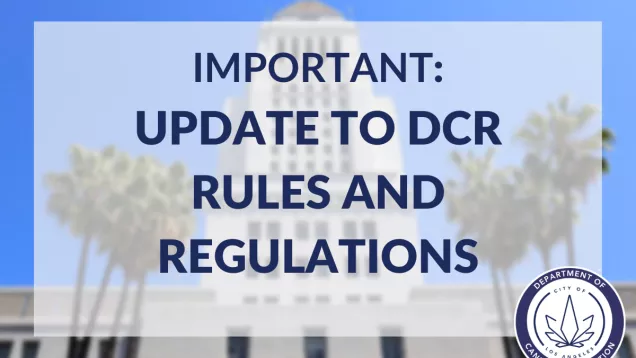 Esteemed Applicants and Licensees,
Effective today, September 26, 2022, the Department of Cannabis Regulation (DCR) updated its Rules and Regulations. DCR may promulgate and enforce Rules and Regulations related to certain provisions in the Los Angeles Municipal Code (LAMC) under LAMC section 104.16.
This update includes, but is not limited to, the following:
Regulation no. 3 now includes the new Legal Business Entity Record process and requires the issuance of a County of Los Angeles Public Health permit prior to a determination of completeness;
Regulation no. 5 was updated to clarify rules surrounding delivery licensees, and to add a requirement to post employee and patron codes of conduct;
Regulation no. 7 was updated to add a new Notice to Correct process and clarify the procedures for administrative appeals;
Regulation no. 8 now includes the expanded Social Equity Program criteria adopted by the Los Angeles City Council in 2020; and,
A new Regulation no. 11 was added concerning the SEED Rental Grant Program.
This is not an exhaustive list of updates, and DCR encourages Applicants and Licensees to review the newly updated Rules and Regulations in their entirety. Please find the newly updated Rules and Regulations here on DCR's website.
Join a special edition of the Department of Cannabis Regulation (DCR) hour-long virtual Q&A session with Assistant Executive Director Jason Killeen on Thursday, October 6, 2022, from 12:00 P.M. to 1:00 P.M. For the first half of this virtual webinar, Assistant Executive Director Killeen will briefly explain the updated Rules and Regulations. For the second half, DCR will continue our usual format of answering pre-submitted questions. Please RSVP to join this session here or join via Zoom.