Posted on 01/31/2023
Our monthly news bulletin premieres today. Here's a sneak peek on what's inside:
An invitation to the Cannabis & Capital forum
When things change: Modification Request 101 Webinar
California Excise Tax Structure Alteration: What it means for cannabis businesses in L.A.
Town Hall Report on "Cannabis in Your Community: Partnering on Progressive Enforcement"
Rental Assistance Grant Funds
State Equity Tax Credits & Equity Fee Waivers
In February, please look for more information on the monthly Q&A Virtual Lunch with Assistant Executive Director Jason Killeen at 12:00 PM, February 15, 2023, and the Cannabis Regulation Commission that meets at 2:00 PM, February 9, 2023. Details are on our event page.
---

Message from the Interim Executive Director
Greetings,
As we embark on a new year, I would like to welcome new Mayor Karen Bass and our newest members of the City Council. The Department of Cannabis Regulation (DCR) looks forward to a successful and productive relationship with Councilmembers Eunisses Hernandez, Tim McOsker, Traci Park, Hugo Soto-Martinez, and Katy Young-Yaroslavsky as well as Mayor Bass. We look forward to working with you to make our city, and its districts, a better place to live and work.
I am pleased to report that DCR's news bulletin will transition to a monthly format. We hope this frequency allows DCR to stay you up to date on DCR-related news in a more timely manner. This year, DCR plans for more in-person events starting with the Social Equity Program's inaugural Cannabis & Capital event next month. 
Lastly, DCR announced recently the launching of its social media presence via Instagram and Facebook. We also just added LinkedIn to the mix. Join us on these platforms for news and information.
Warm regards,
Michelle Garakian
Interim Executive Director
City of Los Angeles Department of Cannabis Regulation 
---
Cannabis & Capital Networking Forum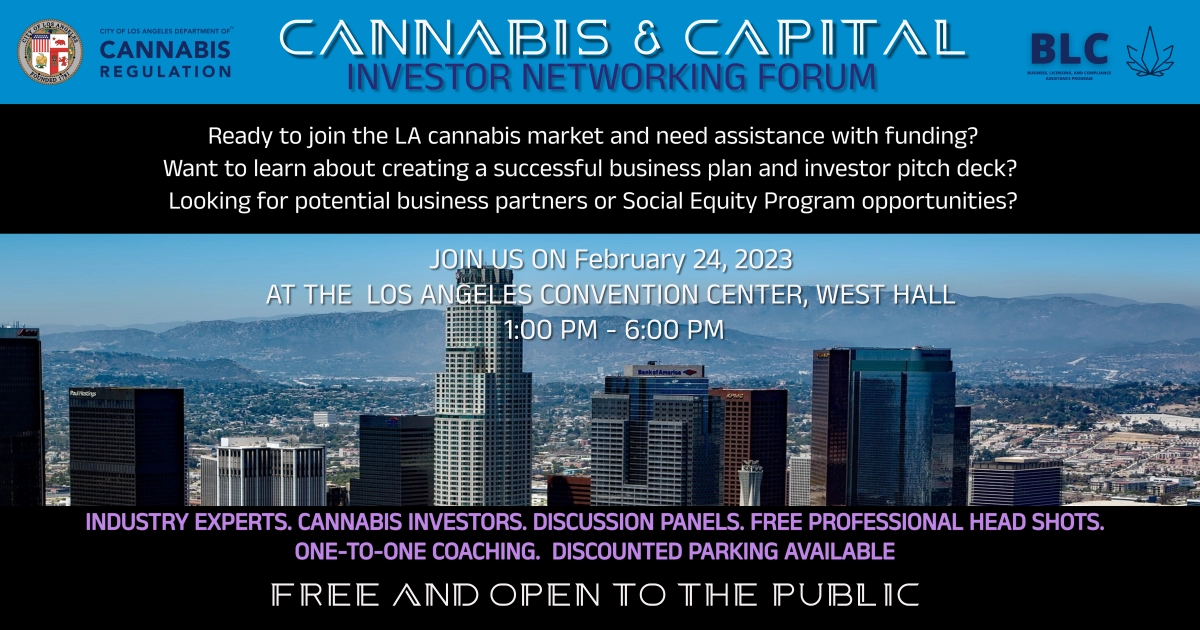 Please join DCR's Social Equity Program (SEP) at the Cannabis & Capital entrepreneurs and investors forum. This free networking event will be held at the Los Angeles Convention Center on Friday, February 24, 2023, from 1:00 PM to 6:00 PM.
The event features:
discussion panels
investor forums
free professional headshots
Event attendees include industry experts, cannabis investors, and exhibitor booth operators.
To RSVP and for more information and/or event participation click here.
---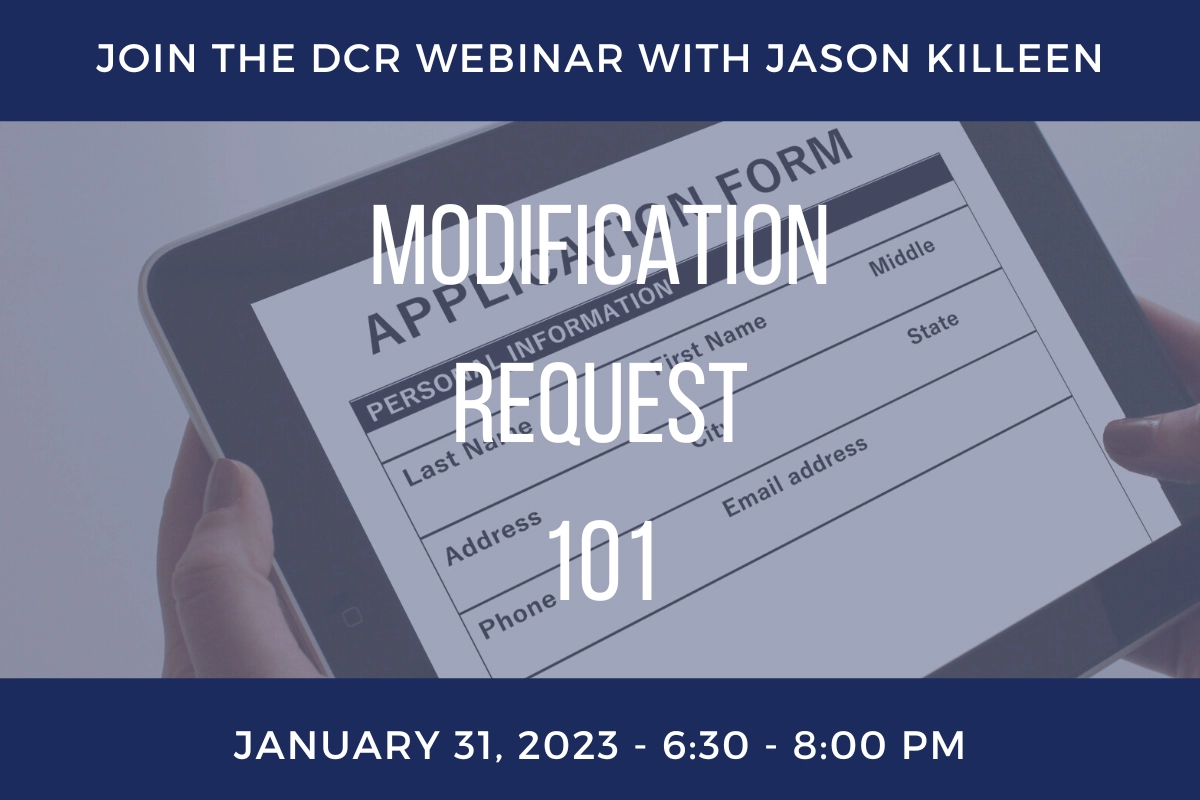 Modification Request Webinar with Jason Killeen
Join the Department of Cannabis Regulation's Assistant Executive Director Jason Killeen for a virtual presentation and Q&A session focusing on the Modification Request Process on Tuesday, January 31, 2023, from 6:30 PM - 8:00 PM Pacific Time. The webinar includes information on relocation between Community Plan Areas for eligible Social Equity Individual Applicants. 
The webinar will also cover:
Modification Request Types

Legal Business Entity Records
Application/License Records
General Rules

Business Premises Relocation through Application Refiling Process 

Application Modification Request Cover Page

Ownership Structures with Aggregated Social Equity Owner Interests 
Ownership Amendments

Equity Changes
Equity Share Review
Removal of Owner(s)

Q&A Session at the end may cover areas related to the modification process not listed above
Ask DCR staff questions about this process and get answers in real time. RSVP today and submit your question(s) in advance by clicking the link here. Questions sent in advance will be prioritized and answered first. Please note that questions specific to individual applications or modifications will not be answered in this forum. 
---

AB 195 and What this Means for Operators
The State of California recently passed Assembly Bill 195. New requirements for the collection of the State's excise tax went into effect on January 1, 2023. AB 195 simplifies the tax structure by consolidating the State's cannabis taxes into a single excise tax rate of 15% imposed at the point of retail sale on cannabis or cannabis products sold in California.
Please note that the new law does not change the City of Los Angeles' tax code or how it is implemented.
What actions do licensed cannabis retailers and microbusinesses need to take?
Cannabis retail, microbusinesses, and delivery licensees will be required to register for a Cannabis Retailer Excise Tax (CRE) permit For detailed information, please refer to CDTFA's comprehensive tax guide available here.
Click here for more information. 
---
CYC Final Report 

The City of Los Angeles Department of Cannabis Regulation (DCR) hosted three virtual town halls titled "Cannabis in Your Community: Partnering on Progressive Enforcement." Public awareness, education and meaningful engagement were the top priorities. These town halls allowed DCR to facilitate discussion about illicit cannabis operations in local communities and share ideas on progressive enforcement strategies. The town halls included a presentation on how DCR, the Los Angeles Police Department (LAPD), and other City departments work together to tackle enforcement against illicit cannabis businesses across the City. 
The final report comprising the feedback received from community members can be found here.
---
SEED Rental Assistance Grant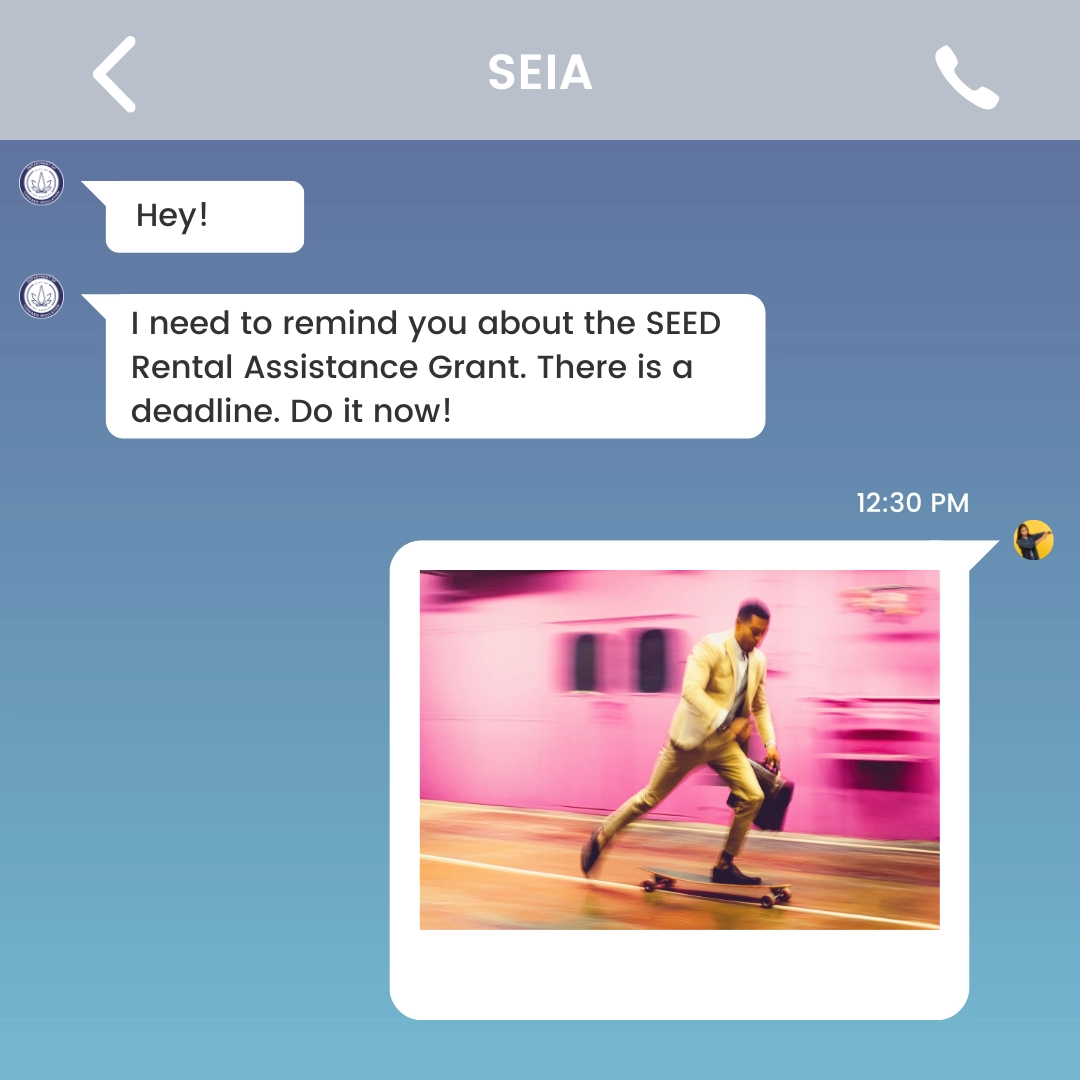 Need to make rent? DCR can help with that. The recently launched $5 million Social Equity Entrepreneur Development (SEED) Rental Assistance Grant offers financial support services for qualifying verified Social Equity Individual Applicants (SEIA). Applications are accepted through 11:59 PM Pacific Time, March 30, 2023. 
$50,000 Grant Eligibility - Verified Phase 3 Retail Round 1 SEIAs whose applications have been deemed eligible for further processing** and who have an executed lease or a Binding Letter of Intent.
**A Status of "Eligible for Processing" means that the Applicant is eligible to submit a Temporary Approval Application for the location determined compliant through the Pre-Application Review process. 
$10,000 Grant Eligibility - Verified SEIAs who have executed leases in all other license types (excluding Phase 3 Retail Round 1).
How can you use the SEED 1.0 & 2.0 Rental Assistance Grant Funds?
To pay rent on a fully executed commercial lease,
To finance up to one month of back rent due on a fully executed commercial lease,
To secure a Binding Letter of Intent by paying the required security deposit,
Or to assist with tenant build-out costs as long as estimates and/or unpaid invoices totaling the grant amount are submitted with the grant application.
*Applicants who receive funds under SEED 1.0 are not eligible for SEED 2.0 and those who receive funds under SEED 2.0 are not eligible for SEED 1.0.
For additional information, a recording of a SEED Rental Assistance Grant Program Webinar is available on the DCR website here. 
To apply for the SEED Rental Assistance Grant, register for an account with Elevate Impact LA. 
Reach out to DCR.SEP@lacity.org with any questions. For more information on other DCR resources available to verified SEIA, please visit our Social Equity Program page here. 
The City of Los Angeles established the SEED Grant Program in April 2021. The SEED Grant Program utilizes funding from the Cannabis Equity Grant for Local Jurisdictions (CEG Grant) to provide direct financial assistance to verified Social Equity Individual Applicants and Licensees. To date, the City of Los Angeles has dedicated $11 million towards the SEED Grant Program with funds made available through the 2019, 2020 and 2022 CEG Grant awards. 
---
Equity Fee Waivers & Cannabis Equity Tax Credit

The California Department of Cannabis Control is accepting requests for Equity Fee Waivers. Additional information, including eligibility, is available here.

The Cannabis Equity Tax Credit is available for taxable years beginning January 1, 2023 through December 1, 2027. Qualified cannabis businesses may receive a tax credit of $10,000. Additional information is available on the Franchise Tax Board's website. 
---
Office Reopens to the Public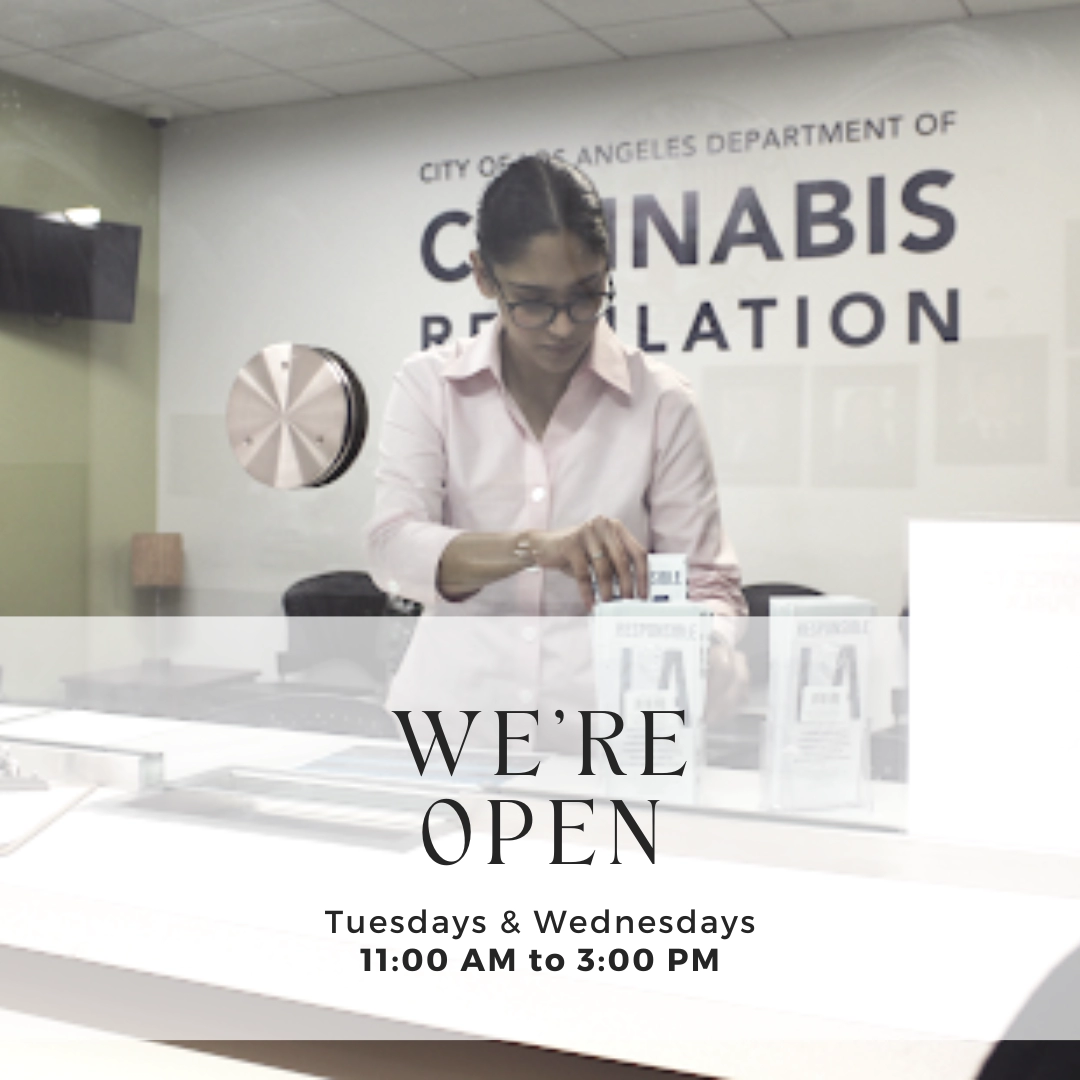 Starting today, DCR re-opens its Public Counter on Tuesdays and Wednesdays from 10:00 AM to 3:00 PM. While most business can be conducted virtually, some matters can be handled in person by appointment. Please call us at (213) 978-0738 first to see how we can help you. 
---
Compliance and Enforcement Division
The newly formed Compliance and Enforcement Division has a new section on the DCR webpage. In it you will find information on:
the latest Rules and Regulations,
Compliance-related forms, 
DCR's role in combatting Unlicensed Commercial Cannabis Activity
Notice of Violation workflows 
and more on the Los County Department of Public Health Emblem Program. 

---
Helpful Resources
Virtual Public Counter: (213) 978 - 0738
If calling DCR to speak to a representative, current Hours of Operation (as of April 5th 2021): Monday through Thursday 10:00 AM to 4:00 PM Please note that our operations are CLOSED on Fridays and for City holidays.
In-person Public Counter
DCR's Public Counter is open Tuesdays and Wednesdays from 10:00 AM to 3:00 PM. DCR is located at the following address:
221 N. Figueroa St, Suite 1245
Los Angeles, CA 90012
Please note that our operations are CLOSED on Fridays and for City holidays.
Cannabis Regulation Commission: CannabisCommission@lacity.org
Compliance and Enforcement: DCRCompliance@lacity.org
General Questions: Cannabis@lacity.org
Licensing Inquiry Email: DCRLicensing@lacity.org
Social Equity Program: DCR.SEP@lacity.org
Media Requests: Click Here
Speaking / Event Requests: Click Here