Posted on 03/11/2021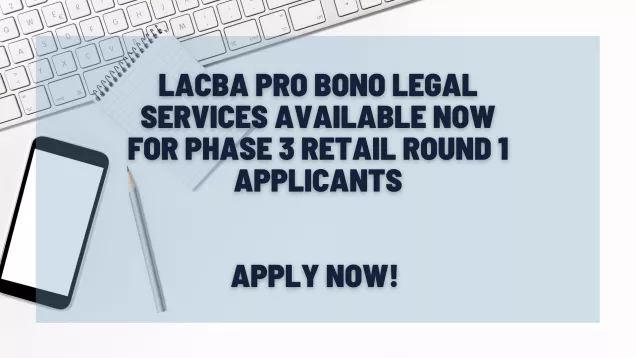 The Los Angeles County Bar Association's Cannabis Section (LACBA), in partnership with the City of Los Angeles, has created a Pro Bono Legal Assistance program which will operate through the LACBA's SmartLaw Referral Service for Phase 3 Retail Round 1 Social Equity Applicants. This is an excellent opportunity for Applicants to connect with attorneys about their legal needs.
The goals of this referral resource are to promote fair and equitable participation in the licensed commercial cannabis industry, foster a level playing field as it relates to access to legal counsel, and help deter predatory practices targeting the social equity community. 
This referral service is available ONLY to Social Equity Applicants who applied in Phase 3 Retail Round 1 and were determined eligible for further processing under Los Angeles Municipal Code Section 104.06.1(b). Depending on demand and availability, these services may be expanded to other applicants in the future. 
If you are a Phase 3 Social Equity Individual Applicant with an application deemed eligible for further processing and interested in receiving limited pro bono legal services, please complete the online survey titled "Pro Bono Legal Services Survey." You must complete the required information in the Pro Bono Legal Services Survey and upload the Authorization Agreement to the survey to complete the survey process. 
Please click here to read LACBA's recent press release! LACBA has already started to match eligible applicants with the pro bono legal panel. However, Social Equity Individual Applicants will be matched with attorneys based on attorney availability and capacity. Efforts  will be made to match every interested Social Equity Individual Applicant with an attorney, but there is no guarantee all will be matched with an attorney or receive pro bono legal services through this program.
If you are interested and eligible for this program, please apply now via the online survey mentioned above.