Posted on 10/21/2022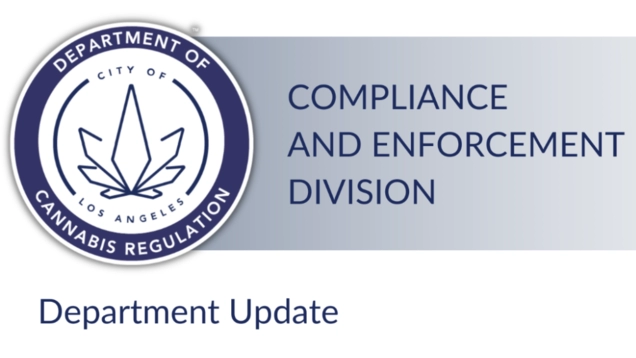 Greetings,
My name is Rocky Wiles and I am pleased to inform you about the Department of Cannabis Regulation's (DCR) new Compliance and Enforcement Division (CED). The CED's mission is to achieve compliance through a progressive enforcement and educational strategy. The Division conducts periodic compliance inspections and investigates complaints against Licensees related to violations of the City's Cannabis Procedures and/or the operational requirements contained in its Regulations. The CED coordinates with other city, county and state agencies to promote compliance with their permitting processes and assist with enforcement efforts to protect the health and safety of Angelenos. Please save DCRCompliance@lacity.org in your email address contacts, as DCR periodically shares information related to upcoming events, document requirements and other compliance related topics.
LICENSEE ATTESTATION FORM REQUIRED ON OR BEFORE NOVEMBER 21, 2022
Please note, that all Licensees who received Temporary Approval are now required to review, sign and return ENF-3003-FORM - Licensee Attestation: Operation Rules and Regulations (Compliance Attestation). This form verifies that Licensees received, read, and understand all applicable operational regulations. DCR published and made effective revised Rules and Regulations (Regulations) on September 26, 2022 and further revised them on October 4, 2022.
ENF-3003-FORM must be submitted to DCRCompliance@lacity.org within 30 days from the date the corresponding business begins its operations. However, all Licensees who received Temporary Approval prior to October 4, 2022, have 30 days from the date of this communication to submit the attestation. If you have not begun operating, please submit this form and enter "TBD" in the field for "Beginning Date of operations."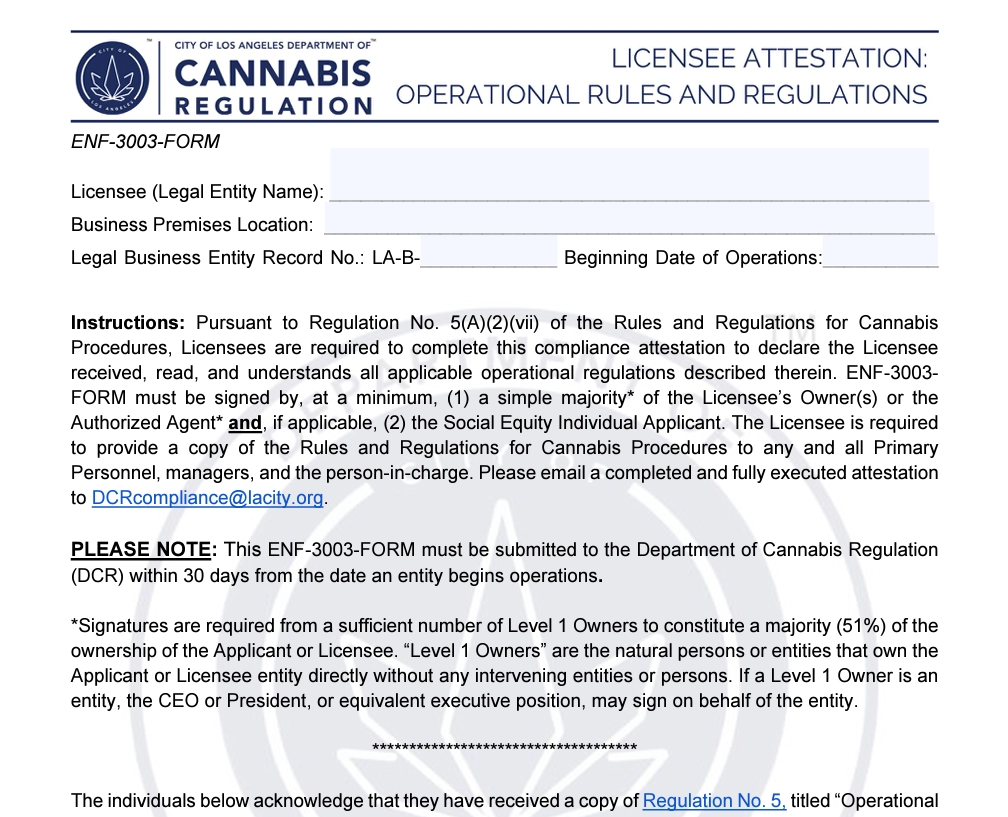 ENF-3003-FORM must be signed by, at a minimum, (1) a simple majority of the Licensee's Owner(s) or the Authorized Agent and, if applicable, (2) the Social Equity Individual Applicant. Again, please make sure to include the start date that your business became operational. If the business is not yet operational, Licensees still must return the signed attestation form and provide an estimated date of operation.
Additionally, Licensees are required to provide a copy of the Rules and Regulations for Cannabis Procedures to any and all Primary Personnel, managers, and the person-in-charge. For additional information on local laws and regulations, you can click here. You may also send an email to DCRCompliance@lacity.org.
On behalf of the Compliance Team at DCR, we look forward to working with you in the near future and assisting with any compliance related questions or concerns you may have. Should you have questions, please email DCRCompliance@lacity.org
Best regards,