Posted on 05/02/2023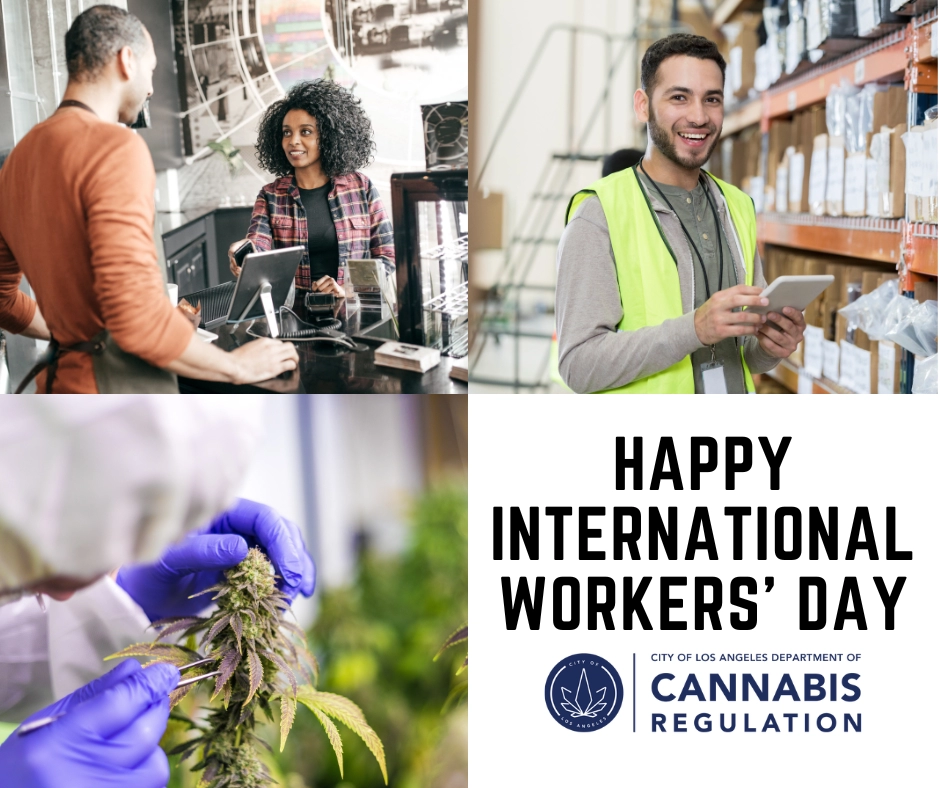 Happy International Workers' Day
International Workers' Day, also known as Labour Day in some countries and often referred to as May Day, is a global celebration of laborers and workers which occurs every year on May 1st.
The Department of Cannabis Regulation expresses our gratitude and thanks to all the cannabis workers and those across all industries for your tremendous efforts and contributions.
To celebrate International Workers' Day, our team is highlighting some great resources to help workers find careers within the cannabis industry!
---

DCR is ecstatic to announce the launch of our job board to help get your career in cannabis started. Our team will be regularly updating the job board with local job opportunities within the Los Angeles area.
---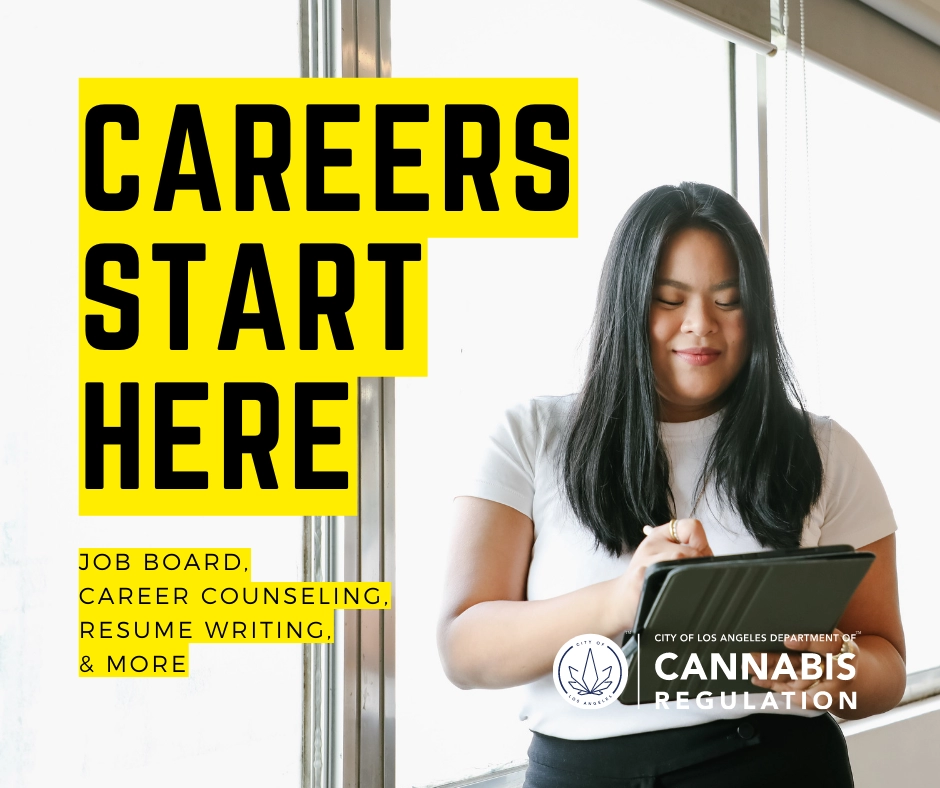 DCR wants to connect YOU with a career in cannabis. If you want to receive updates about new opportunities in the cannabis industry and receive access to one-on-one resume advice and interview prep
---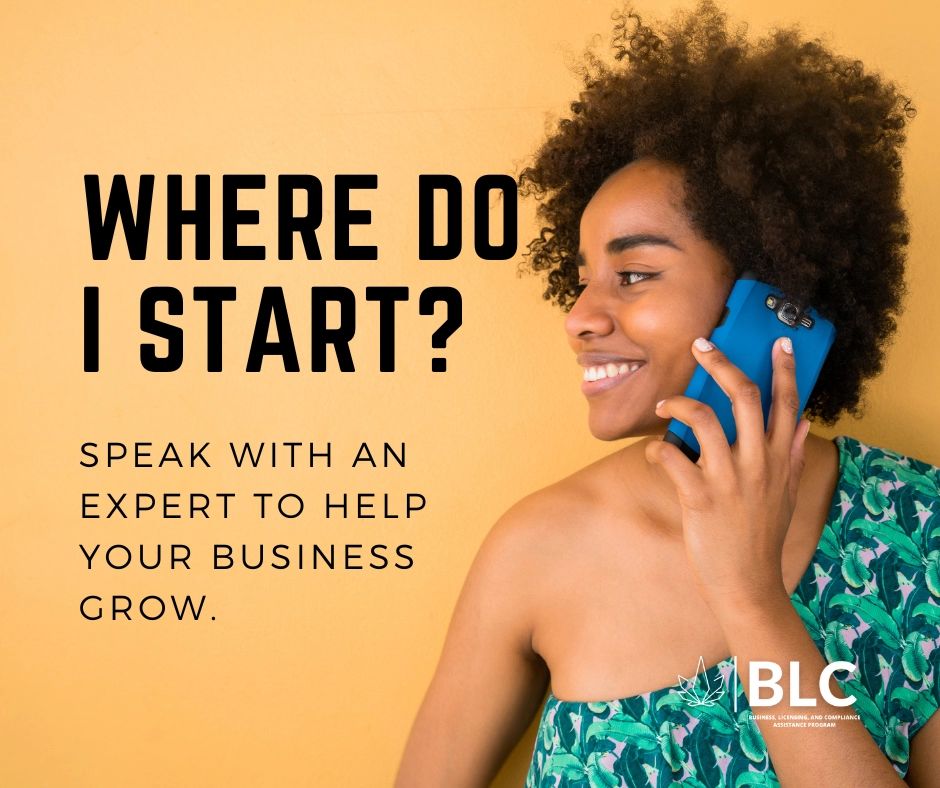 DCR offers free coaching to help social equity entrepreneurs launch and grow their businesses.Schedule a 15-Minute live assessment meeting to determine the next steps, and find the best coach for your particular needs.
---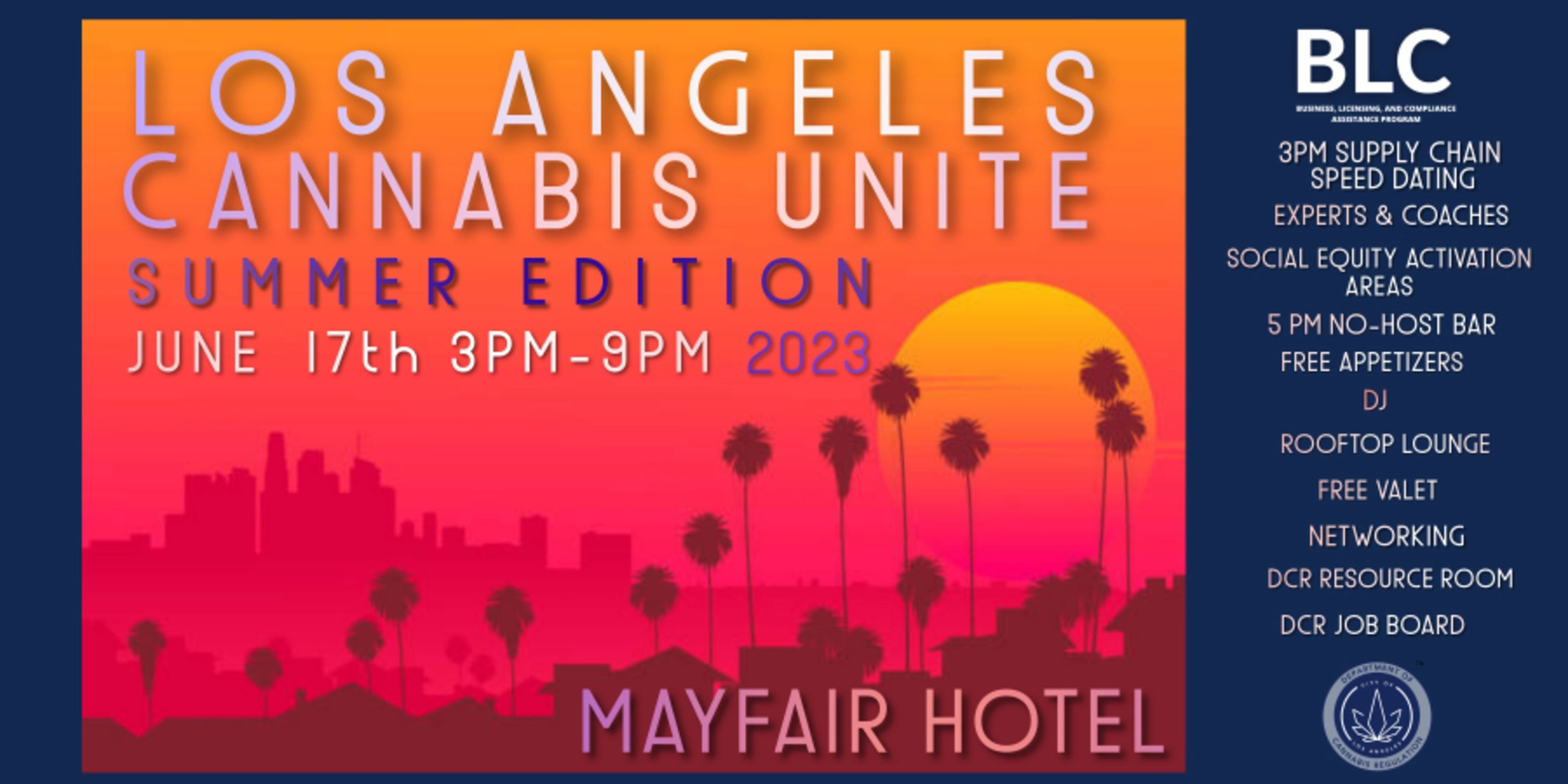 The Los Angeles Department of Cannabis Regulation (DCR) and Oaksterdam University invite you to the largest cannabis business and professional development networking event of the summer. RSVP now and join us at the Social Equity Program's (SEP) LA Cannabis Unite, Summer Edition on June 17, starting at 3:00 PM, at the historic Mayfair Hotel DTLA.
Join us for a day of information, guidance, education, business and professional development and networking. Connect with DCR-SEP, the Los Angeles cannabis community, industry leaders and Social Equity start-ups, operators, licensees and applicants. Come see about the DCR-SEP resources, services and learning tools available now to fast-track your business and entrepreneurship journey.
---
Buy Safe Be Safe – New Cannabis Retailer Map with Green Star Social Equity Locations
A new retail map feature on the DCR website cannabis.lacity.org helps Los Angeles cannabis customers easily locate and identify licensed and authorized DCR retail locations. Social Equity retailers are identified by a green star.
Cannabis shoppers can now feel comfortable and confident they are purchasing safe and tested quality products free of chemicals, carcinogens, pesticides and mold. This map will continually be updated and maintained by DCR staff and will only include licensed operators. No guesswork. No doubts. Find your nearest shop here, and support Social Equity locations.
#ShopSafe #ShopLegal #ShopLocal
---

By the Numbers – Citywide Social Equity Licensing Data
The City of Los Angeles has given out 521 Social Equity Licenses split into 5 activities. This represents close to 40% of all licensees.DCR anticipates that at least half of licensed businesses will be owned by Social Equity Individual Applicants by 2025.
---
Important Timeline & Deadlines
Launch of DCR Annual Licensing
On May 1, 2023, the Department of Cannabis Regulation (DCR) will launch its Annual Licensing Application Process. Businesses with Temporary Approval and an active Legal Business Entity Record (LBER) will receive communications about next steps. Instructions will be provided at a later date to all other applicants. As a reminder, ALL Temporary Approval Licenses will sunset on December 31, 2027. This transition from Temporary Approval to Annual Licensing will affect some licensees and applicants sooner than others.
This timeline provides important information on State and City licensing deadlines.
Please call DCR should you have any questions about Annual Licensing at (213) 978-0738 or email DCRLicensing@lacity.org
---

Click to hear from legacy entrepreneur and current Teds Budz distribution licensee, Theodore Lewis, about the importance of relationships, networking, becoming a cannabis business expert and perseverance. Lewis is "living the dream" and truly runs a family business that he is extremely proud of.
---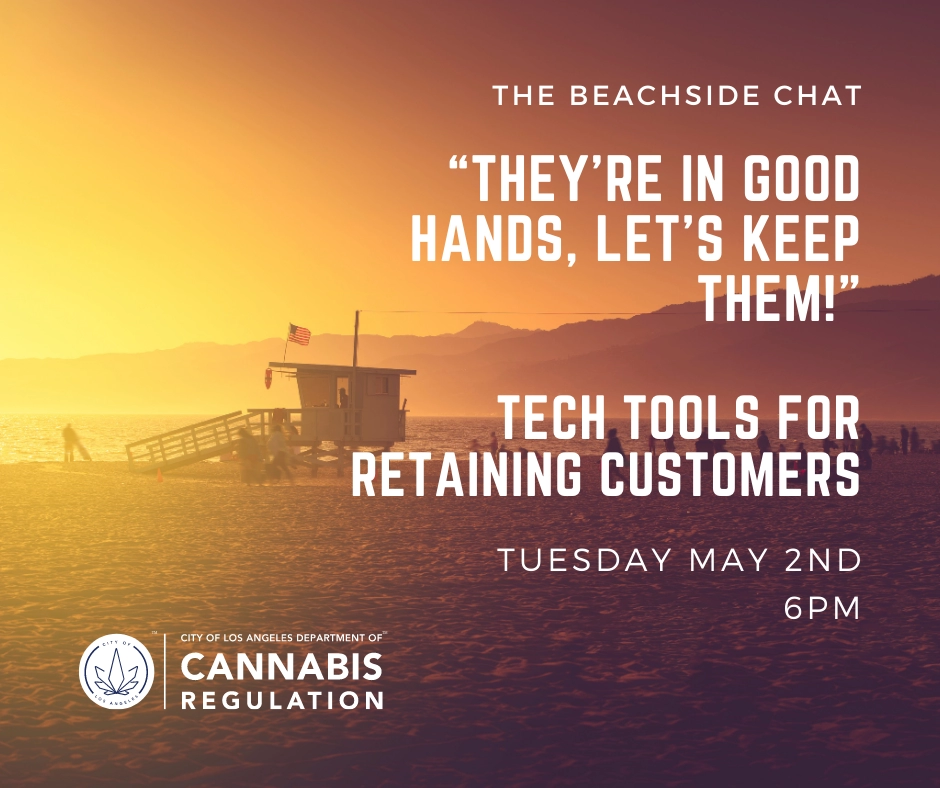 "They're in Good Hands, Let's Keep Them!"
Tech Tools for Retaining Customers
Our subject matter experts will prioritize the tech tools to retain your customer base. We will get specific on how to maintain and create loyal customers. Join us on May 2nd, 2023 at 6:00 pm Pacific for an hour of moderated conversation and 30 minutes of audience Q&A. Get your questions answered and position yourself for excellence post-4/20!
Confirmed presenters:
Joseph Huayllasco | CEO & Co-Founder, Ciclo
Ishqa Hillman | CEO, The Canna Boss Babes
David Paleschuck | Founder & CEO, Branding Bud Consulting Group
Christian Valdez | Founder, Traffic Roots
Jerry Willis | CEO, The Willis Collection
Thomas A. Stewart | Senior Advisor and Author of Woo, Wow, and Win
West Paschal | CRO, Alpine IQ
---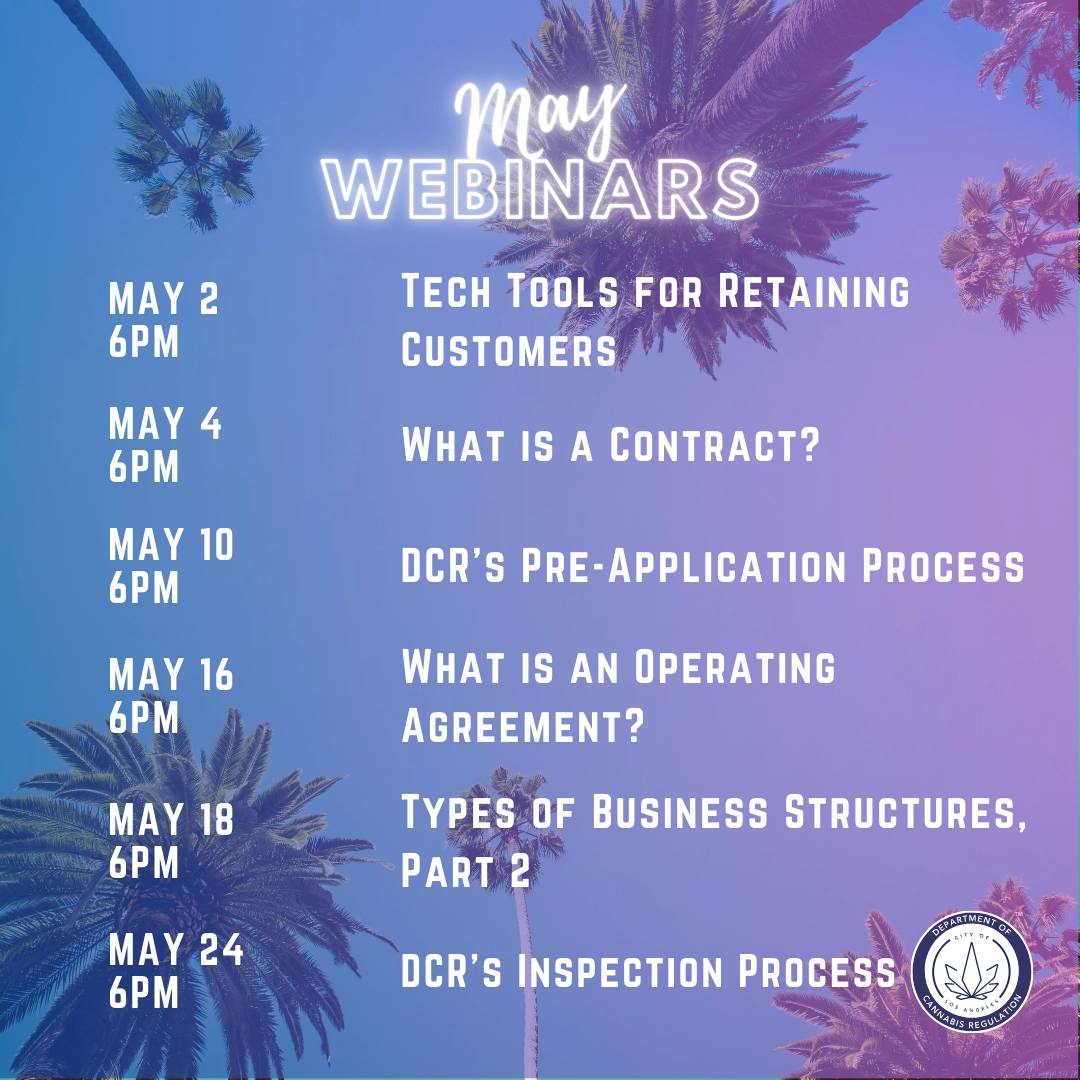 In May, DCR is thrilled to bring you the following topics and experts:
Let's build your business together. The DCR invites you to our no-cost virtual webinars that bring industry thought leaders, cannabis regulators, and business subject matter experts to your living room to answer questions.
---

The Los Angeles Department of Cannabis Regulations (DCR) Social Equity Program offers Pro Bono - Low Bono Legal Services Program in partnership with the Los Angeles County Bar Association (LACBA).
The Pro Bono program provides up to 10 hours of free legal advice for verified Social Equity Individual Applicants (SEIA) The Low Bono program offers SEIAs up to 30 hours of legal advice at a discounted rate of $35 per hour.
To apply please complete the Pro Bono/Low Bono Legal Services Survey and upload the required Pro Bono / Low Bono Authorization Agreement. Once an eligibility review is complete, LACBA will contact the individual to schedule an appointment.*
---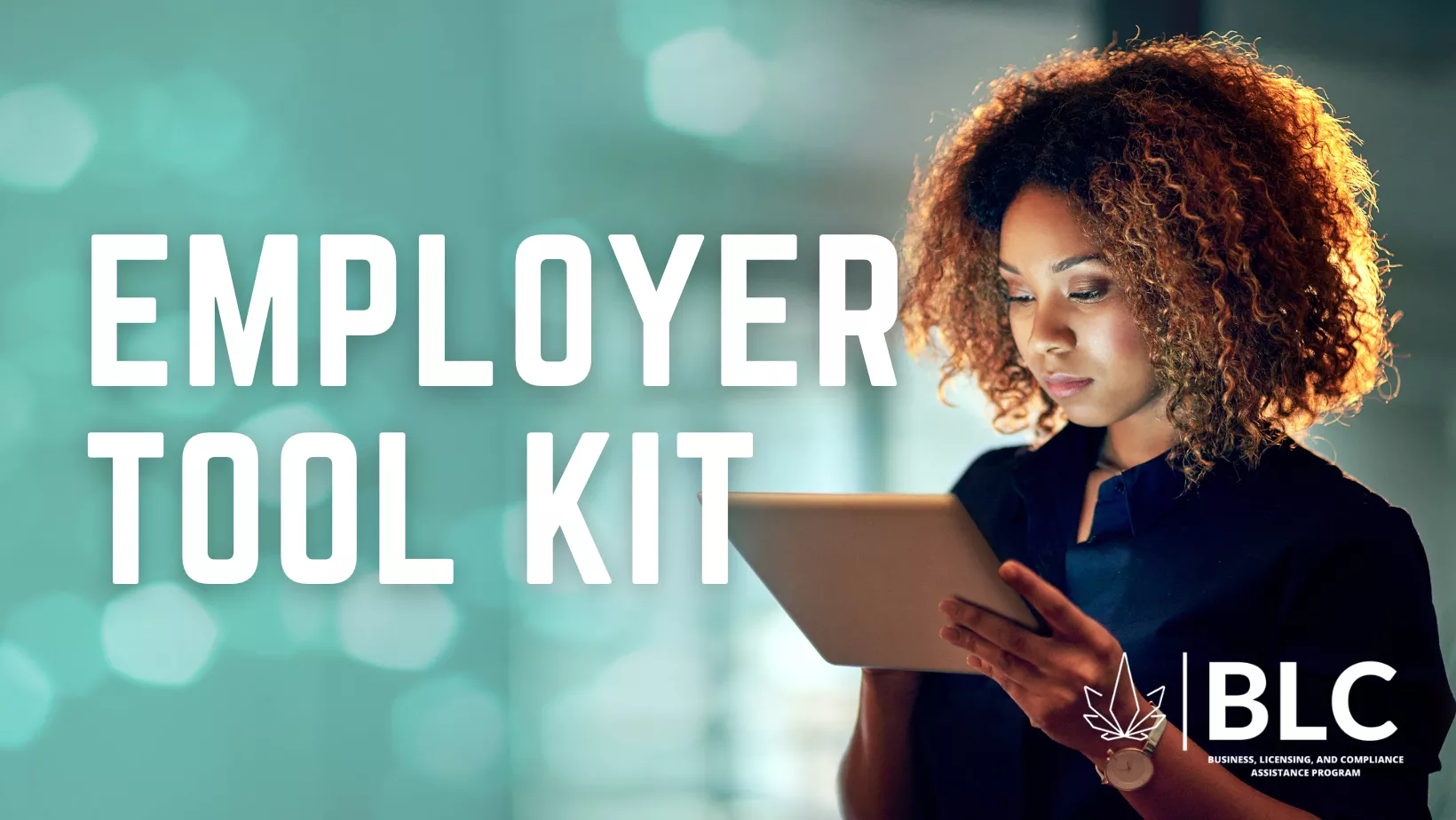 Check out the Employer Toolkit on DCR's Licensed Employer's Resources Page!
User Guide: Employer Hiring Toolkit
For your convenience, a guide of all of the employer assets included in this educational series is located in the City of Los Angeles Social Equity Program Shared Google Drive. The tools are arranged according to the "employee life cycle," which follows the entire process of finding, hiring, and eventually offboarding an employee.
Templates & Checklists:
An employee lifecycle begins with you posting a new position available at your company. Once you post your job announcement, you will go through a recruitment process to assess potential candidates. Once you have selected a candidate, you will need to onboard them to your company's policies and procedures and train them on the specifics of their position.
Once a new employee is onboarded, you will need to document their performance and any disciplinary actions you may take during their employment. You will also want to work with your employees during their tenure at your company to advance their professional development by creating and executing a plan that grows their skills.
Finally, all employees will eventually leave their positions. You will need to document this process called offboarding, which is the final component of an employee's lifecycle.
Employee Lifecycle: Employer Requirements in California
A single source for what YOU need to know about:
Resources for hiring employees
Compliance
Reporting
Determining who is an employee vs. a contractor
Payroll Taxes
Responding to Unemployment Claims
CA Regulatory Agency Information
---

Local News
State of California News
National News
Contact Us
Thank you for reading our monthly CannaDispatch newsletter, designed to provide timely and useful information about DCR-SEP news, services and resources for the Los Angeles Social Equity community, SEIAs, licensees and operators.
If you have suggestions for future newsletter topics, please email us at dcr.sep@lacity.org. The DCR public counter is open Tuesday and Wednesday from 10:00 AM to 3:00 PM at 221 N. Figueroa St, Suite 1245, Los Angeles, CA 90012. Call (213) 978-0738 to speak with a DCR representative.