Posted on 09/28/2022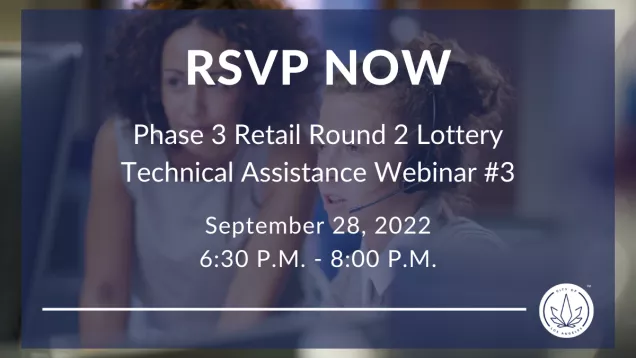 the Department of Cannabis Regulation (DCR) Technical Assistance Webinar #3 is September 28, 2022, from 6:30 P.M. - 8:00 P.M. PT. via Zoom. Under LAMC section 104.06.1(c), DCR must make technical assistance available for a period of at least 45 days before opening the P3RR2 lottery registration period. As you await the results of your Social Equity Individual Application request, please join the webinar to learn more. This third Technical Assistance webinar provides step-by-step instructions on how to register for the lottery.
In case you missed the August 31 Technical Assistance Webinar #1 or September 14 Technical Assistance Webinar #2, or would like to see them again, you can find recordings of the webinars and the presentation slides here. The first technical assistance webinar provided an overview of the P3RR2 lottery registration process and the relevant timing considerations for Social Equity Individual Applicants (SEIA) if they are selected in the P3RR2 lottery. The second webinar focused on how to proactively prepare for the lottery and/or the application process if selected as a verified SEIA, including an overview of the BTRC application process and Legal Entity Record process.
The last Technical Assistance webinar takes place on October 12, 2022 from 6:30 P.M. to 8:00 P.M. PT. It provides an overview of Webinars 1-3 and an open Q&A regarding the Phase 3 Retail Round 2 lottery registration process.
To register for the September 28, 2022 from 6:30 P.M. to 8:00 P.M., Technical Assistance Webinar #3, please click here.
Please note there is a wealth of valuable information on DCR's website for current and prospective Social Equity Individual Applicants (SEIAs), including information on application and licensing processes. There is also valuable information available for verified SEIAs on DCR's Learning Management System (LMS). We suggest you visit our website often and familiarize yourself with the information and tools available.
Webinar ID: 894 2464 2851
Passcode: 407872
One tap mobile:
US: +16699009128,,89424642851# or
+16694449171,,89424642851#
Or Telephone:
Dial(for higher quality, dial a number based on your current location):
+1 669 444 9171
+1 346 248 7799
+1 719 359 4580
+1 253 215 8782
+1 312 626 6799
+1 386 347 5053
+1 564 217 2000
+1 646 558 8656
+1 301 715 8592
877 853 5257 (Toll Free)
International numbers available: https://cannabis-lacity-org.zoom.us/u/kcz8UDH7vT