Posted on 10/26/2022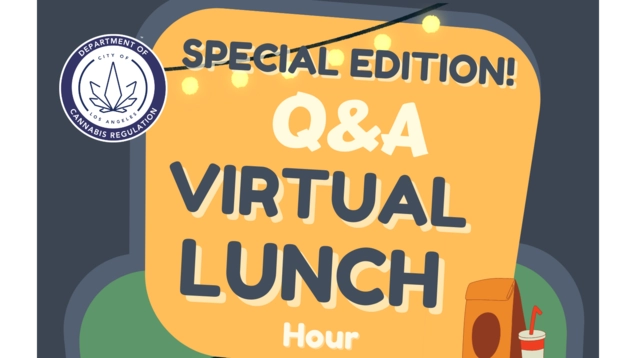 Join a special edition of the Department of Cannabis Regulation (DCR) hour-long virtual Q&A session with Assistant Executive Director Jason Killeen on Wednesday, November 2, 2022, from 12:00 P.M. to 1:00 P.M. For the first half of this virtual webinar, Assistant Executive Director Killeen will briefly overview the recently completed Social Equity Individual Applicant verification process, the registration process for the upcoming Phase 3 Retail Round 2 (P3RR2) Lottery and next steps for the P3RR2 Lottery.
Grab your lunch and take advantage of this unique opportunity. RSVP and submit your question(s) ahead of time by clicking the link here. While the focus of this webinar will focus on the SEIA verification process, the P3RR2 lottery registration and next steps for the P3RR2 Lottery, we welcome other questions sent in advance. Please note that questions about individual applications or requests will not be answered in this forum.
You can watch previous webinars of Q & A Virtual Lunch Hour with Jason Killeen here.
Can't make this event? These Q & A virtual lunch hours will occur monthly. Check our website for updates and more information.
Webinar ID: 832 6998 7475
Passcode: 038426
One tap mobile :
+16699009128,,83269987475#
+16694449171,,83269987475#
Or Telephone:
Dial(for higher quality, dial a number based on your current location):
+1 669 900 9128
+1 669 444 9171
(Toll Free) or 877 853 5257 (Toll Free) or 888 475 4499 (Toll Free) or 833 548 0276 (Toll Free)
International numbers available: https://cannabis-lacity-org.zoom.us/u/kcEfhfDDYK