Posted on 12/08/2022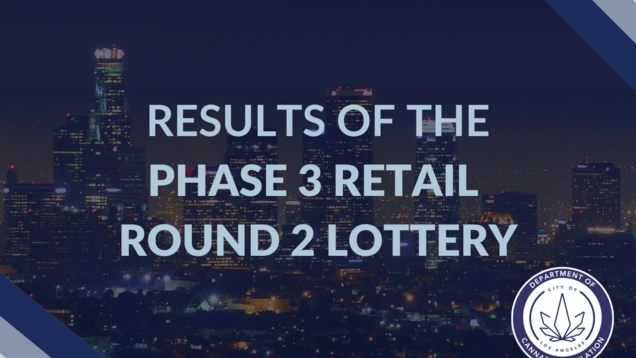 On December 8, 2022, the Department of Cannabis Regulation (DCR) successfully conducted the retail application lottery, also known as the Phase 3 Retail Round 2 Lottery (Lottery). The Lottery process selected 100 verified Social Equity Individual Applicants (SEIAs) for the opportunity to apply for a cannabis retail license in the City of Los Angeles.
P3RR2 Lottery Anonymized Key Workbook (2022.12.08 P3RR2) - List of 100 Selected SEIAs
The Lottery was the culmination of nine months of planning, including a verification process that allowed individuals to request verification as a Social Equity Individual Applicant (SEIA). More than 1,000 individuals requested verification and over 500 SEIAs met the criteria to participate and timely registered to be entered in the Lottery. Additional information on the SEIA criteria and process can be found here. The SEIA verification criteria align with the mission of the Social Equity Program (SEP) to promote equitable ownership and employment opportunities in the cannabis industry. The SEP is an integral part of the Department of Cannabis Regulation and provides economic opportunities for those most affected by the War on Drugs.
DCR congratulates the individuals selected in today's Lottery process. DCR is pleased to announce that DCR's Social Equity Program Director, Dr. Imani Brown, has earmarked grant funding to waive certain application fees for the selected SEIAs. DCR looks forward to working with those SEIAs in the near future.
Background on the Lottery Process
In advance of the December 8 Lottery, DCR contracted with a third-party global business advisory firm called FTI Consulting Inc. (FTI) to administer the selection process. FTI, along with DCR and other City departments, utilized a triple-blind, random selection process. A "blind" selection process means that the entity which selects the applicants does not know their identity. A "triple-blind" process means that no one involved in the process, including FTI, DCR, and other City departments,knew the identity of who was selected until after the selection process had been completed and the data from each party was reconciled. SEIAs were randomly selected by FTI during a live streamed event which began at 2:00 PM PT, December 8, 2022.
As part of the Lottery planning effort, the City of Los Angeles City Administrative Office (CAO) contracted with an auditor, Sjoberg Evashenk Consulting (SEC), to review the Lottery process. After the completion of the Lottery, on the evening of December 8, 2022, SEC confirmed there were no discrepancies with the Lottery process or the results. SEC will release a detailed report on its findings in early 2023.
Unless there is a policy change, DCR plans to administer an additional SEIA verification process and subsequent lottery in early 2023.
To learn more about the P3RR2 Lottery, please visit our website.