Posted on 05/24/2022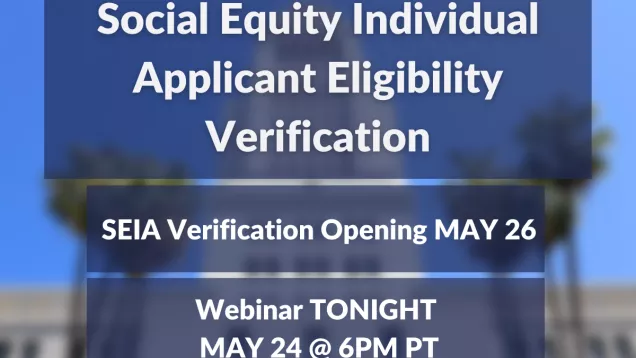 The Social Equity Individual Applicant ("SEIA") Verification process will be the focus of a Department of Cannabis Regulation (DCR) webinar taking place on TONIGHT Tuesday, May 24, 2022 at 6 pm. This event will build on the 5/10 webinar that provided a general overview of SEIA Verification. The May 24 webinar will also provide step-by-step instructions on filling out the SEIA Verification request form and uploading supporting documentation.
VERIFICATION PERIOD
The May 24 webinar will help interested individuals learn more about the process in anticipation of the Social Equity Individual Applicant ("SEIA") Verification request period that begins on May 26, 2022 and ends on July 25, 2022 at 4:00 pm Pacific Time. SEIA Verification is a process by which individuals may be verified as meeting the criteria set forth in Los Angeles Municipal Code section 104.20(b)(1).
SOCIAL EQUITY PROGRAM
The Social Equity Program focuses on the inclusion and support of individuals in the City's legal cannabis marketplace who may have been negatively or disproportionately impacted by prior cannabis criminalization. As part of that effort, cannabis business licenses for retail, delivery, and cultivation are exclusively available to verified Social Equity Individual Applicants until January 1, 2025. For individuals who were previously verified as Social Equity Individual Applicants in 2019 and wish to pursue a retail storefront license application as part of the Phase 3 Retail Round 2 lottery, you will need to be verified again with the updated criteria in order to qualify.
Please visit the Social Equity Program Individual Applicant Eligibility Verification webpage to learn more about this process, and to prepare your questions for the upcoming webinar mentioned below. The webpage outlines the criteria for eligibility, documentation required to prove eligibility, as well as various assets to guide prospective applicants through the verification process, including a pre-recorded informational video, a preparatory checklist and eligibility verification frequently asked questions. The video and presentation slides from the May 10 webinar can be found here.
We encourage all those who wish to become verified to join the Social Equity Individual Applicant Eligibility Verification webinar hosted by DCR's Social Equity Program today May 24, 2022. There is also a third and final webinar on June 14, 2022.
For one tap mobile :
+16699006833,,88496119635#
+14086380968,,88496119635#
Or Telephone:
Dial(for higher quality, dial a number based on your current location):
+1 669 900 6833
+1 408 638 0968
+1 346 248 7799
+1 253 215 8782
+1 301 715 8592
+1 312 626 6799
+1 646 876 9923
Webinar ID: 884 9611 9635
International numbers available: https://us06web.zoom.us/u/kefsqHyBTp