Posted on 09/28/2022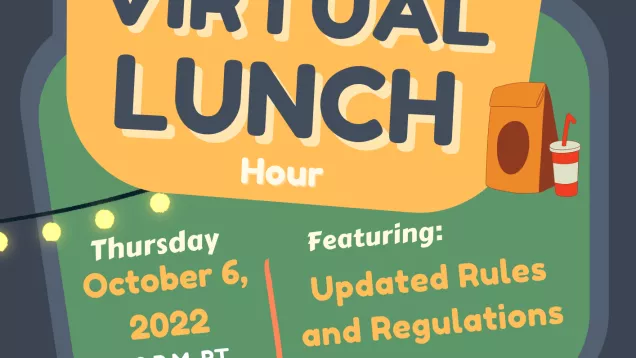 Join a special edition of the Department of Cannabis Regulation (DCR) hour-long virtual Q&A session with Assistant Executive Director Jason Killeen on Thursday, October 6, 2022, from 12:00 P.M. to 1:00 P.M. For the first half of this virtual webinar, Assistant Executive Director Killeen will briefly explain the updated Rules and Regulations announced on September 26, 2022. For the second half, DCR will continue its usual format of answering pre-submitted questions. Please RSVP to join this session here or join via Zoom.
Why is this brief presentation important?
On September 26, 2022, DCR updated its Rules and Regulations. This update includes, but is not limited to, the following:
Regulation no. 3 now includes the new Legal Business Entity Record process and requires the issuance of a County of Los Angeles Public Health permit prior to a determination of completeness;
Regulation no. 5 was updated to clarify rules surrounding delivery licensees, and to add a requirement to post employee and patron codes of conduct;
Regulation no. 7 was updated to add a new Notice to Correct process and clarify the procedures for administrative appeals;
Regulation no. 8 now includes the expanded Social Equity Program criteria adopted by the Los Angeles City Council in 2020; and,
A new Regulation no. 11 was added concerning the SEED Rental Grant Program.
This is not an exhaustive list of updates, and DCR encourages Applicants and Licensees to review the newly updated Rules and Regulations in their entirety. Please find the newly updated Rules and Regulations here on DCR's website.
Grab your lunch and take advantage of this unique opportunity. RSVP and submit your question(s) ahead of time by clicking the link here. While the focus of this webinar will be the updated rules and regulations, we welcome other questions sent in advance. Please note that questions about individual applications will not be answered in this forum.
You can watch previous webinars of Q & A Virtual Lunch Hour with Jason Killeen here.
Can't make this event? These Q & A virtual lunch hours will occur monthly. Check our website for updates and more information.
Webinar ID: 832 6998 7475
Passcode: 038426
One tap mobile :
+16699009128,,83269987475#
+16694449171,,83269987475#
Or Telephone:
Dial(for higher quality, dial a number based on your current location):
+1 669 900 9128
+1 669 444 9171
(Toll Free) or 877 853 5257 (Toll Free) or 888 475 4499 (Toll Free) or 833 548 0276 (Toll Free)
International numbers available: https://cannabis-lacity-org.zoom.us/u/kcEfhfDDYK