Posted on 10/31/2022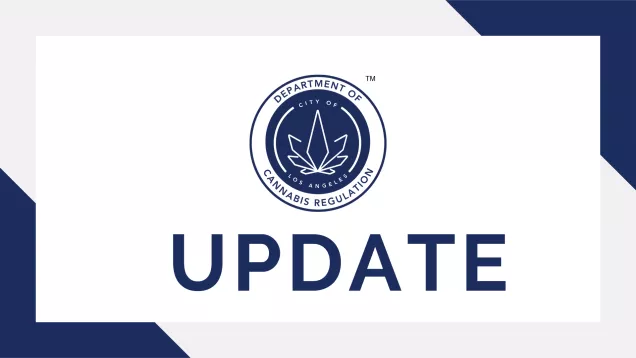 Greetings,
The Department of Cannabis Regulation (DCR) thanks you for your participation in the 2022 Social Equity Individual Applicant (SEIA) verification process. Please know that DCR's goal was to verify as many individuals as Social Equity Individual Applicants as could meet the requirements. No city department ever wants to be in the position of choosing who has access to opportunities for licensing and other resources. The City Council, however, sets the local laws that govern DCR's processes. DCR must abide by those laws, and aims to do so in the most transparent and ethical manner. We attempt to do our very best by the community that we serve.
Background on 2022 Social Equity Individual Applicant (SEIA) Verification Process
In July 2020, the City Council adopted recommendations from the Rules, Elections, and Intergovernmental Relations Committee which narrowed the social equity verification criteria and set specific timelines for DCR to process and review verification requests. During the legislative process, the City Council heard from many social equity applicants who believed the then-existing verification criteria did not reflect the spirit of the social equity program. As a result, the City Council changed the following: (1) a California cannabis conviction or arrest became a requirement for the Phase 3 Retail Round 2 Lottery; (2) "Disproportionately Impacted Areas'' were changed from zip codes to police reporting districts; and (3) the Low Income criterion was updated to include an asset limitation. Because the criteria changed, local law required everyone seeking to participate in the Phase 3 Retail Round 2 lottery to be verified under the expanded criteria with a qualifying California cannabis conviction or arrest. Individuals previously verified in 2019 had to meet the expanded criteria and submit a new SEIA eligibility verification request. This ensured that all participants meet the same criteria for the Phase 3 Retail Round 2 lottery.
2022 SEIA Verification Process
In light of the State's provisional application deadline on March 31, 2023, DCR moved quickly in early 2022 to open a new eligibility verification process in the hopes of providing the most time possible for new applicants to apply before the State deadline. After three weeks of communications to prepare prospective Social Equity Individual Applicants, DCR opened the 60-day Social Equity Individual Applicant eligibility verification request submission period on May 26, 2022.
To assist prospective applicants through the verification process, DCR made available:
a dedicated web page on the DCR website with information and links to resources for verification, including a video explaining the Social Equity Individual Application verification criteria, a preparatory checklist and frequently asked questions (FAQ);
three webinars that were recorded live and posted on our website;
the ability to pre-submit questions that would then be answered live at the webinars;
presentation slides from these webinars were posted on DCR's website;
Over 60 one-on-one counseling sessions offered guidance on the necessary documentation for verification; and
over 25 emails in a two-month period reminded folks about the resources above and verification deadline.
In addition to these resources, DCR reached far and wide virtually, due to the limitations posed by the pandemic, to communicate to current stakeholders and potential new stakeholders by email, placing strategic ads targeting the new DIAs on Google, and working with trade and community groups to disseminate information about the verification process.
2022 SEIA Verification Status
DCR received 1,276 eligibility verification requests. DCR determined that 1,139 requests were unique and 137 requests were duplicate or test submissions. On July 26, 2022, DCR began a 90-day review period to determine eligibility of each application. Of the 1,139 unique submissions we received, approximately 510 were verified to participate in the lottery and 629 were not verified to participate in the Lottery because the participant did not demonstrate a qualifying arrest or conviction prior to November 8, 2016.
Verification requests will have gone through at least three levels of reviews before the lottery is administered. Unfortunately, not every applicant will be verified this time around. Please see this dynamic list on our website for the general reasons why an individual could not be verified. If you have questions about your individual verification status, we encourage you to contact DCR at dcrlicensing@lacity.org or by phone at 213-978-0738. An analyst will be able to provide you with additional information on why you were not verified.
Unfortunately, local law does not allow requesters to supplement or fix their verification requests submitted during the verification period this summer. Local law required that the verification window remain open for 60 days, followed by a 90-day review period for DCR to make eligibility determinations. Under local law, the verification window and DCR's review period cannot overlap. Allowing requesters to supplement or fix their submissions after the 60-day verification window would mean the verification period is both longer than 60 days and overlaps with DCR's review period. Finally, and most importantly, local law provides that DCR's SEIA eligibility determinations are "final and not appealable."
For requesters who were not able to get verified, DCR understands that news may be disappointing and we are sympathetic. To that end, the DCR would like to open up a new social equity verification process in early February 2023 and another lottery (available licenses permitting) in the subsequent months following the new SEIA verification process.
Phase 3 Retail Round 2 Lottery
For requesters who were able to get verified - Congratulations! The P3RR2 lottery registration period is open as of October 24, 2022. If you want to participate in the Lottery, you must register through the DCR Licensing Portal before 4:00 PM Pacific Time on Wednesday, November 23, 2022. All timely registrations will be entered into the Lottery. Incomplete and/or late registrations will not be accepted and, as a result, will not be entered into the Lottery.
Thank you for taking time to read this communication. We look forward to your feedback, your continued participation, and your support of our collective goals to ensure a progressive, equitable, and vibrant commercial cannabis industry.
Sincerely,
DCR