Posted on 04/20/2023

Happy 4/20
There is much lore about the origins of 4/20, a day specially dedicated to celebrating cannabis and cannabis culture.  Whatever the true story is, DCR wishes everyone a safe 4/20! DCR is incredibly excited to report that on this 4/20, it issued its first license to a Phase 3 Retail Round 2  (Dec 2022) lottery applicant who went through the entire process in just four short months. Congratulations to them and best wishes on a successful future! Make sure to celebrate legally by shopping at local, licensed shops
In this news bulletin, you'll learn more about what DCR has been up to, including:
Thank you for reading through our April News Bulletin. Should you have any questions, please reach out to DCR at (213) 978-0738, or by email at cannabis@lacity.org.
Sincerely,
Michelle Garakian
Interim Executive Director
---

Each quarter, DCR will be providing Department Highlights to ensure its stakeholders are aware of everything DCR has been up to. 
DCR is pleased to report that it has filled 51 of 59 authorized positions, decreasing its vacancy rate from 45% vacancy rate in April 2022 to less than 14% by the end of April 2023.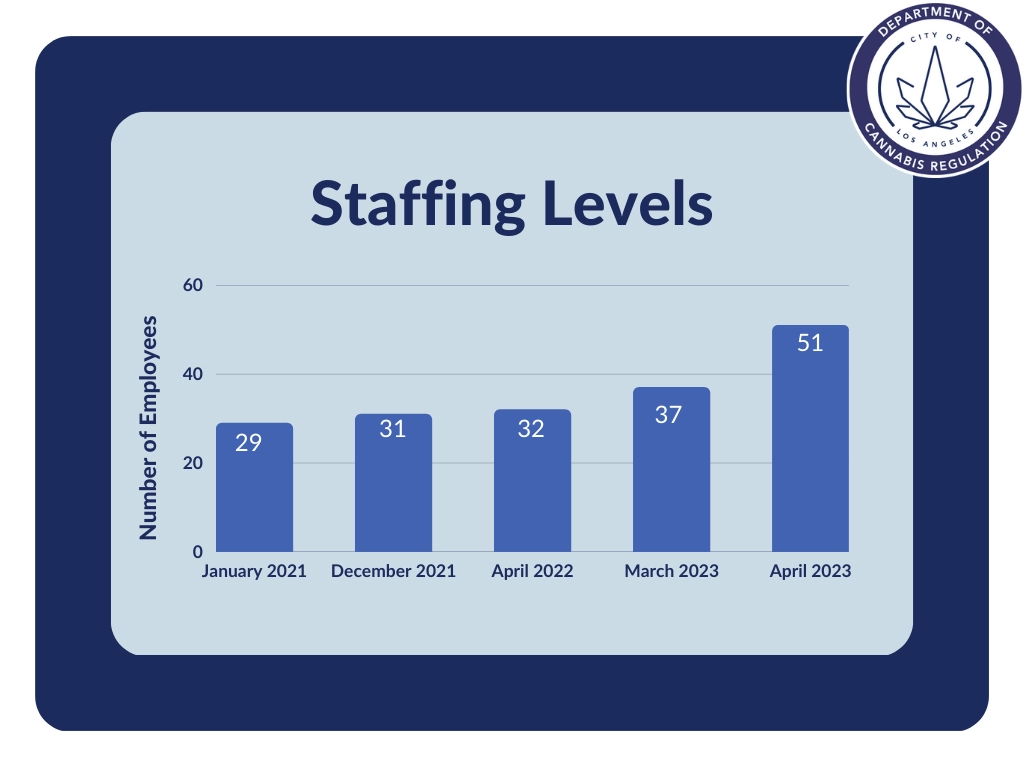 Licensing has shown steady increases since DCR's inception accounting for over $350 million in tax revenue and has increased the number of licenses issued from 169 in 2018 to 1,455 in March 2023.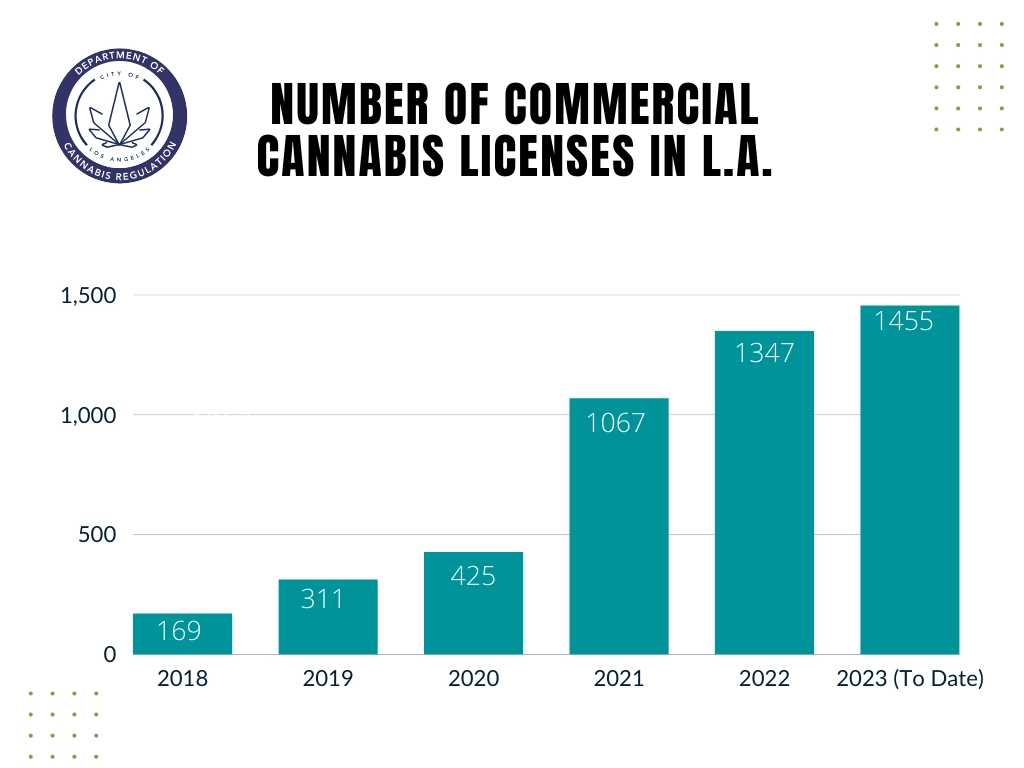 DCR's Social Equity Program has grown exponentially since it was funded in 2019. Today, all verified Social Equity Individual Applicants (SEIAs) have access to:
And DCR is happy to report that 40% of the City's licensed businesses are owned by Social Equity Individual Applicants (SEIAs).  DCR anticipates that half of licensed businesses will be owned by Social Equity Individual Applicants by 2025.
DCR's Complaint Portal is the department's tool to get feedback on suspected illegal cannabis or non-compliant activities in Los Angeles. Since the inception of the Complaint Portal, DCR has received 6,264 complaints. 
24 percent of these complaints were referred to the Los Angeles Police Department, the lead agency in charge of enforcement against illegal cannabis activity
70 percent have been investigated and closed
DCR investigating 6 percent of submissions
Finally, one year ago in April 2022, DCR began a monthly webinar series called "Q&A Virtual Lunch with Assistant Jason Killeen." The series provides regular opportunities for stakeholders, operators and applicants to ask questions about DCR processes and services directly to DCR staff. On this anniversary, DCR has fielded roughly 600 questions from attendees with queries ranging from how to start in the cannabis industry to how to change application information, from Social Equity Program resources to updates on legislative manners. DCR will continue this popular series for the foreseeable future.
---

Trusted Cannabis Retailer Map
Calling all cannabis shoppers! You can now easily locate safe and legal cannabis retailers within the City of Los Angeles. This map is maintained by DCR staff and will only include licensed operators. No guesswork. No doubts. Find your nearest shop here. 
#ShopSafe #ShopLegal #ShopLocal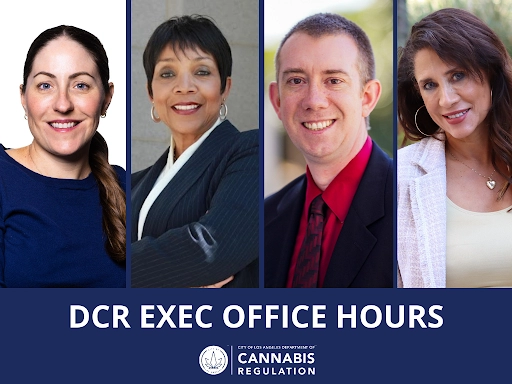 As part of an effort to increase access and transparency, DCR executives will host special virtual office hours by appointment. In early May, executive managers Interim Executive Director Michelle Garakian, Assistant Executive Director Jason Killeen, Social Equity Program Director Dr. Imani Brown, and Compliance and Enforcement Division Chief Rocky Wiles will meet with stakeholders to discuss cannabis-related issues important to them. You can schedule your 25-minute appointment here. Please note that these appointments are free, easy to book and don't require any special services to obtain. Space is limited.
---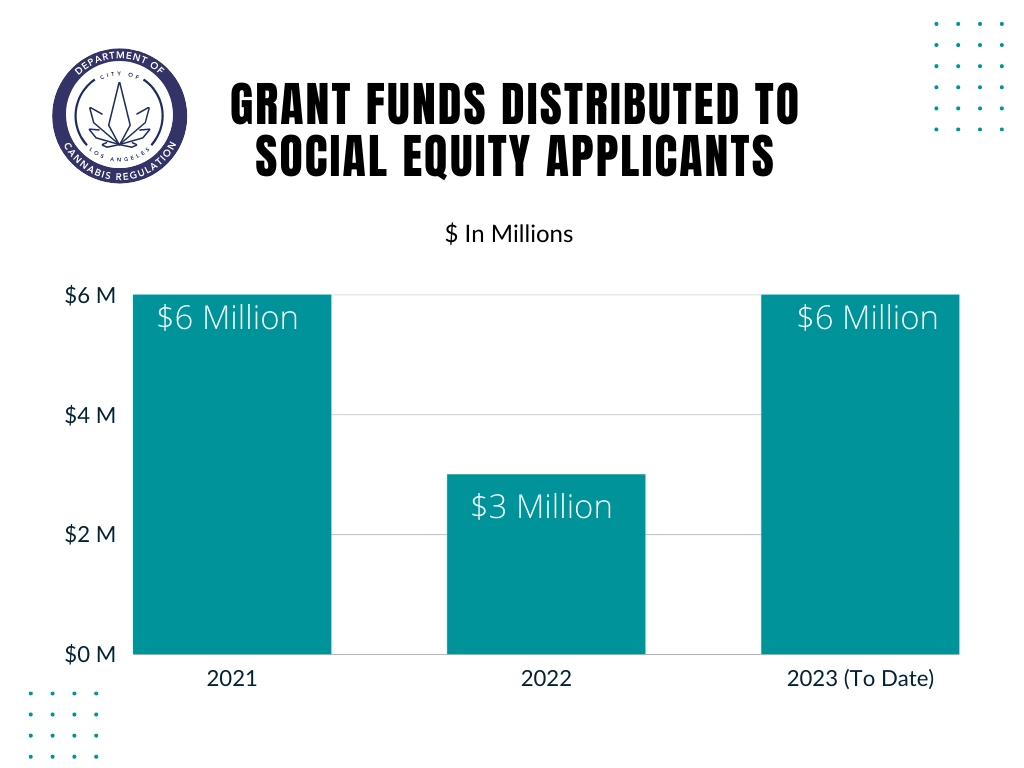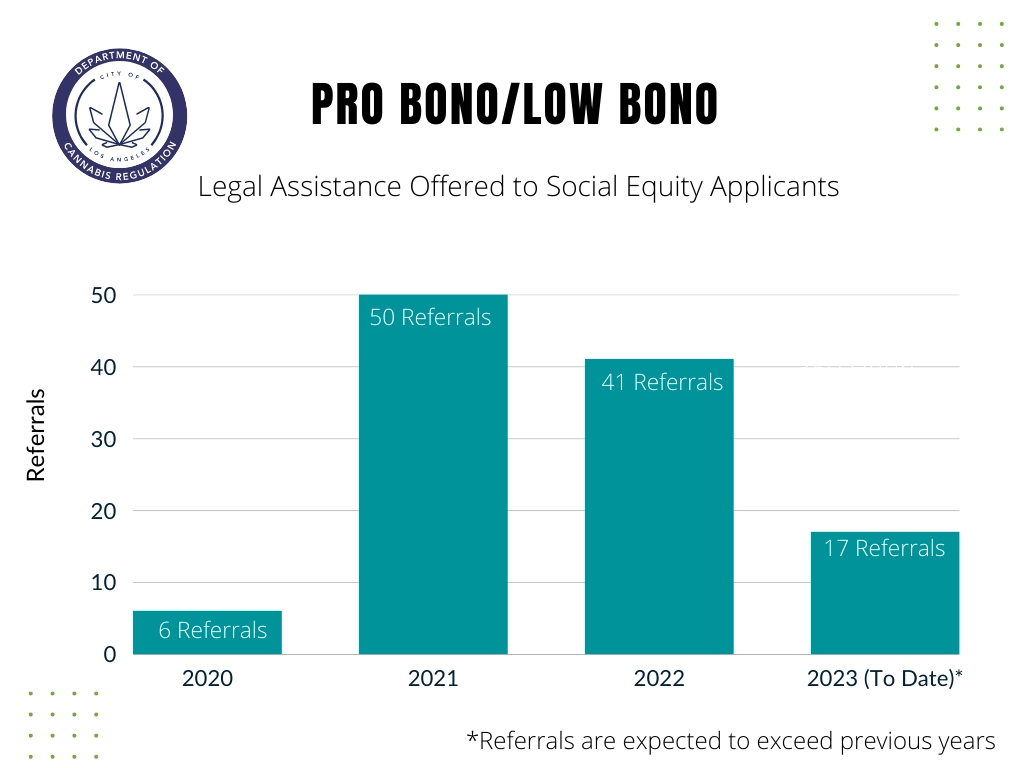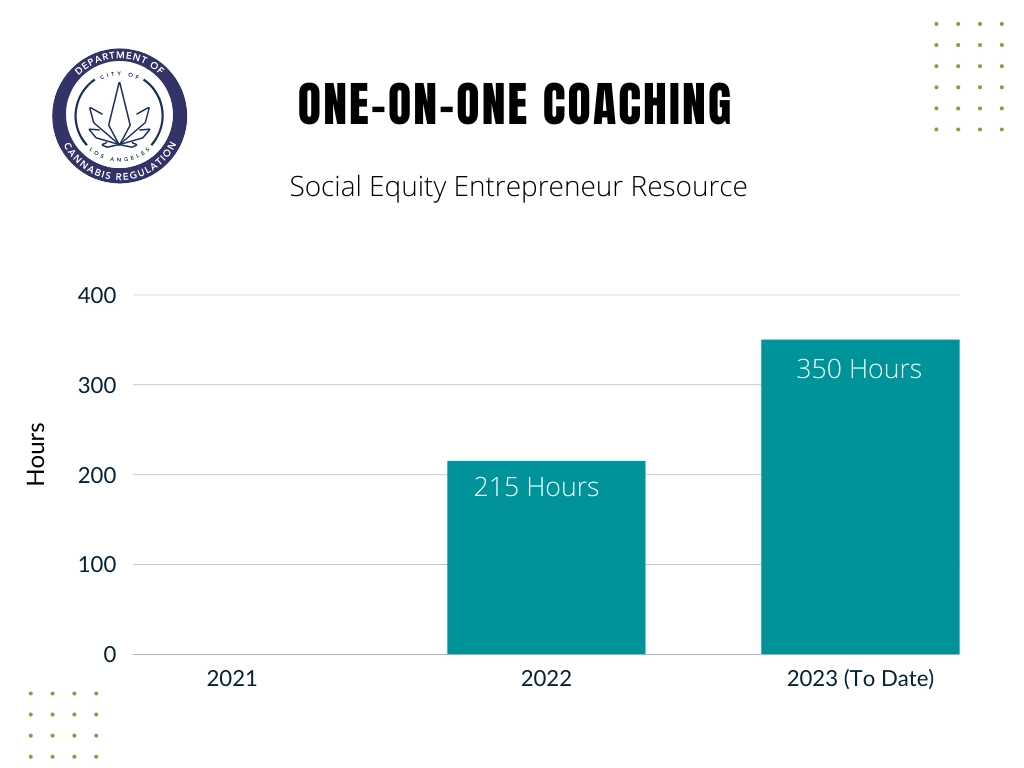 The Social Equity Program continues to provide one-on-one coaching to verified Social Equity applicants and due to this influx, has expanded the team of coaches that provide these services on a daily basis.
To date, 181 verified Social Equity entrepreneurs will receive direct financial assistance of up to $50,000 deposited into their bank accounts. Recipients are able to use the SEED Rental Assistance Grant funds to either secure a lease, pay rent, pay back rent, pay a security deposit or for tenant build-out costs. The Social Equity Program has increased last year's disbursement of grant funds to Social Equity applicants and licensees by $3 million.
In 2023, SEP has hosted 10 of a planned 21 webinars and tutorials on various topics including the licensure process, updated rules and regulations, technology tools in cannabis and grant application technical assistance. SEP has webinars set up for the next few months.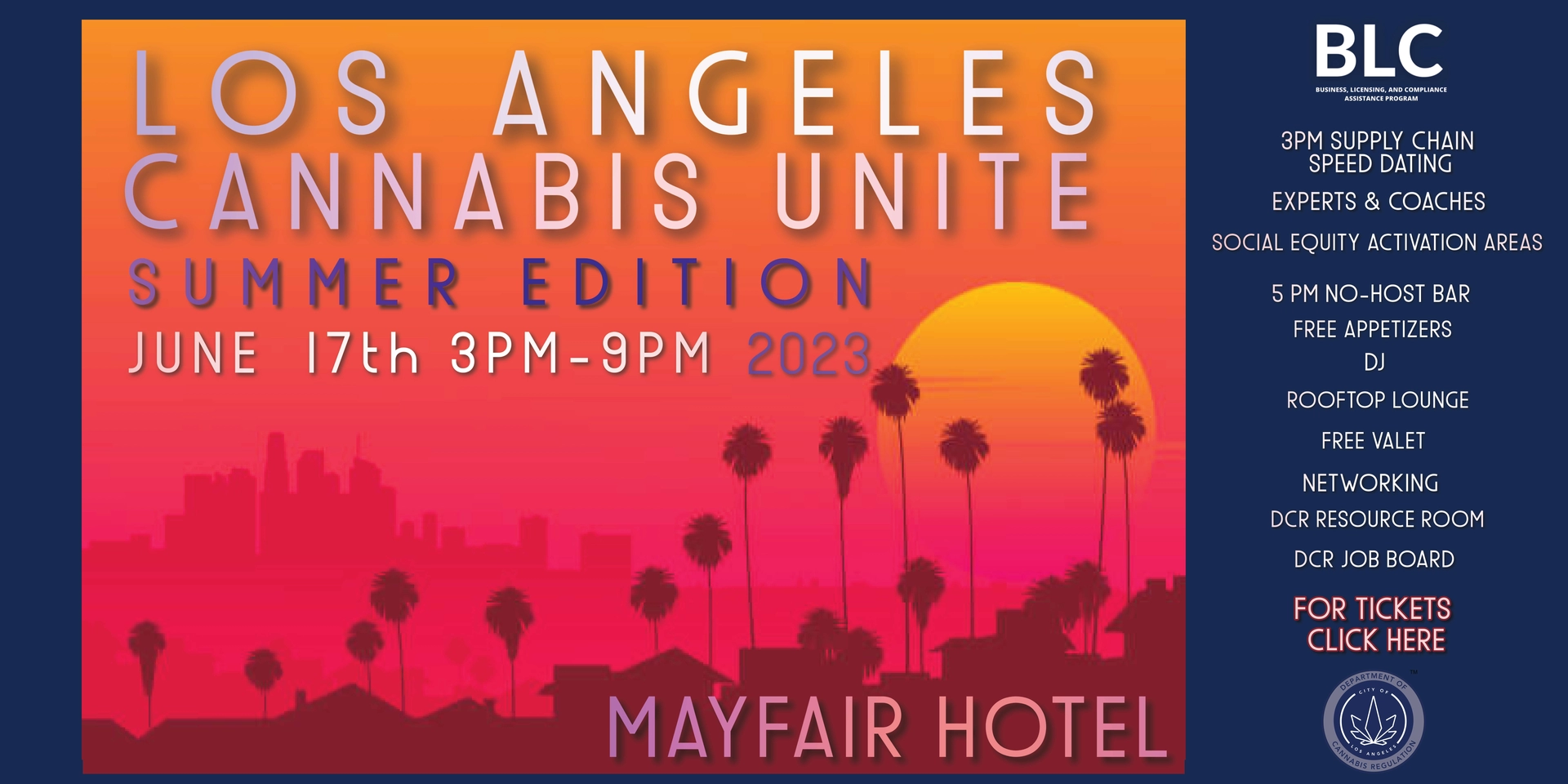 Join us for DCR's Social Equity Program LA Cannabis Unite event at 3:00 PM on Saturday, June 17, 2023, at the Mayfair Hotel in Los Angeles. As part of DCR's continued commitment to advancing the Los Angeles social equity community, this special networking event will support local operators in networking with industry thought leaders. 
Please stay tuned and check our website for more details soon. To RSVP for Cannabis Unite, click here.

As part of the effort to build a robust cannabis industry, DCR's Social Equity Program has announced its calendar of upcoming webinars. These webinars will be held at 6:00 PM on the dates below.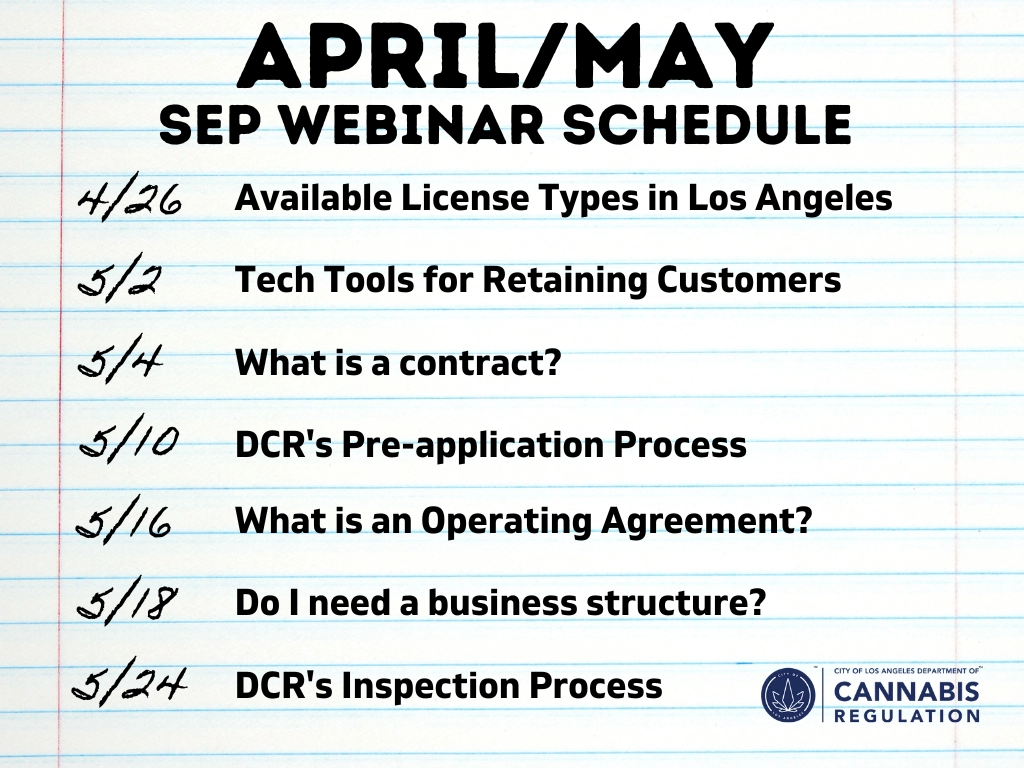 These webinars are available to verified social equity individual applicants only. Those interested can register here.

Cannadispatch, the Social Equity Program's (SEP) monthly publication for social equity applicants, published its April edition. To view April's edition, please click here. 

Below you'll find a look into DCR's licensing activity and the types of licenses the department offers. 


Citywide Licensing Data
There are 786  commercial cannabis businesses and 1455 licenses—some businesses hold more than one license type,  authorized to operate within the City.

Citywide Social Equity Licensing Data
And the City of L.A. has given out 521 Social Equity Licensessplit into 5 activities. This represents close to 40% of all licensees. DCR anticipates that at least half of licensed businesses will be owned by Social Equity Individual Applicants by 2025.

---

City
On April 18, Mayor Karen Bass released the City's proposed budget for the upcoming fiscal year. DCR will maintain its current operating budget if approved by City Council on June 1. 
On April 18, the Planning and Land Use Management Committee (PLUM) appointed Mr. Shi Young Lim to the Cannabis Regulation Commission (CRC) as agenda item #7, Council File (CF) 23-1200-S93. Mr. Lim's appointment will now move to the full Council for consideration. 
So far in 2023, DCR has made the following recommendations to Council:
On February 28, Council approved a set of DCR's recommendations that seek to improve the administration of the City's commercial cannabis licensing and Social Equity Program in relation to Council File no. 21-1083-S1. Soon, the City Attorney's office will present a draft ordinance based on these recommendations that must then be approved by PLUM, the City Council and then signed by Mayor Karen Bass before becoming law. Since the City Council approved the recommendations with an additional urgency clause, the ordinance will become law as soon as it's signed by the Mayor.
State
SB 51 (Bradford), a critical bill to extend the provisional licensing application deadline beyond March 31, was heard in the Appropriations Committee hearing on April 10. The Committee referred the bill to undergo a review of its financial impact before being heard on the Senate floor again.
---

If you missed DCR's Licensing 101, you have a second chance! A recording and presentation slides for the four-hour webinar are available on the DCR website here.  DCR also created new assets to help applicants through the licensing process. This includes a Getting Started Checklist and a DCR IDs List form.
Don't miss your chance to learn everything you need to know and more about getting through the licensing process.

Join DCR for its upcoming Q&A Virtual Lunch with Jason Killeen on Wednesday, May 10, 2023, at 12:00 PM via Zoom. For one hour, Assistant Executive Director Jason Killeen will field questions from those who pre-submit questions and, time permitting, questions submitted during the webinar through the live Q&A function. You can RSVP and pre-submit questions here.
For the most updated events and information, please be sure to follow us on social media via Facebook,  Instagram and LinkedIn. 
---


Important Updates for Cannabis Businesses from CA Department of Tax and Fee Administration (CDTFA)
There are important notices on the California Department of Tax and Fee Administration (CDTFA)'s website. These notices relate to filing taxes, potential tax credits for equity businesses, and new requirements for retail receipts. 
Tax Guide for Cannabis Businesses: A guide intended to provide general information on issues relating to the Sales and Use Tax Laws, Cannabis Tax Law, and other programs administered by the CDTFA that may affect cannabis businesses.
For general inquiries, please contact the CDTFA Customer Service Center at: 
1-800-400-7115 (CRS:711), then select the option for "Special Taxes and Fees."
State's Social Equity Resources
The Department of Cannabis Control is accepting requests for Equity Fee Waivers. Additional information, including eligibility, is available here.
The Cannabis Equity Tax Credit is available for taxable years beginning January 1, 2023 through December 1, 2027. Qualified cannabis businesses may receive a tax credit of $10,000. Additional information is available on the Franchise Tax Board's website. 
DCC's Cannabis Advisory Committee 
DCC's Cannabis Advisory Committee (CAC) will hold an Equity Subcommittee meeting on Tuesday, April 25, 2023, at 1:00 p.m. 
View the meeting agenda and information about the meeting.