Commercial Cannabis Facility Public Health Inspection Compliance and Emblem Program
The County of Los Angeles Department of Public Health (LADPH)'s Cannabis Compliance and Enforcement Program (CCEP), including the Emblem Program - designed for licensed retail businesses and administered by the County of Los Angeles in partnership with the City of Los Angeles - aims to deter the operation of unlicensed cannabis businesses as well ensuring that licensed businesses are complying with public health standards for consumers, State regulations, and local ordinances relating to construction, building materials, equipment, equipment installation, and ventilation systems. 
DCR and LADPH hosted two webinars in 2022 detailing the site evaluation and inspection process:
The Emblem Program (Retail Only)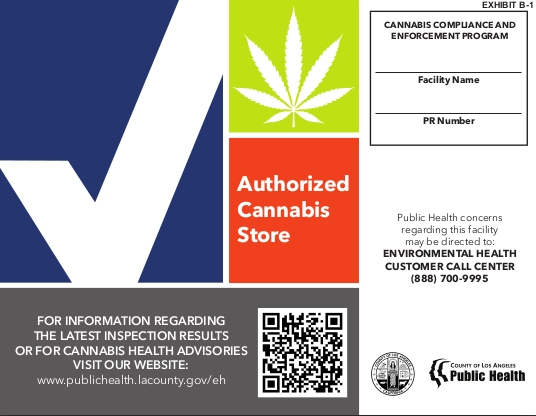 In July 2022, the Department of Cannabis Regulation partnered with the County of Los Angeles Department of Public Health (LACDPH) to roll out the Emblem Program for Authorized Cannabis Stores and public health inspections of commercial cannabis facilities which currently hold Temporary Approval to operate. These public health inspections, although initially rolled out on a voluntary basis, will become a requirement when DCR begins its Annual Licensing process. These inspections are critically important for retail facilities to obtain an Emblem Placard which notifies the public that the retail facility has received all required state and local licenses and approvals. To receive an Emblem Placard from LACDPH, retail facilities must pass a Site Evaluation and obtain a Public Health Permit.
Streamlined Site Evaluations Available for A Limited Time
At this time, LACDPH is offering to conduct Site Evaluations which are a streamlined, less costly way of obtaining an inspection and Health Permit that was specifically created for cannabis facilities currently operating. DCR urges cannabis business operators to act now as this streamlined process will not be available after DCR begins the Annual Licensing process. The advantage of going through a Site Evaluation now is that a plan submission is not a requirement in order to obtain a Health Permit. Please note that Applicants who receive Temporary Approval by March 31, 2023, will be eligible to take advantage of the site evaluation process.
Department of Building Safety Retail Use Permits Required
To facilitate the Health Permit and Emblem Placard process for retailers, DCR has partnered with the Department of Building and Safety (LADBS) to review building permit records for the Business Premises locations which currently hold Temporary Approval. After LADBS verifies that the use of the Business Premises is permitted for retail use, LACDPH is notified so that they can proceed with the Site Evaluation of the Business Premises, provided the Licensee has requested the Site Evaluation. If the facility meets the requirements, LACDPH will issue a Health Permit and the Emblem Placard. For a list of retailer facilities that have been verified by LADBS, see the table below:
Please note that this list will be updated regularly therefore Licensees should check back periodically to see if the Business Premises is eligible for a Site Evaluation. Licensees that hold Temporary Approval for retailer facility locations that have not been able to be verified by LADBS based on permit records will be contacted via email by the DCR compliance staff with further instructions.
All City Permits Required Before Public Health Inspection
Please note that prior to obtaining a Health Permit from the LACDPH for any activity, Licensees will be required to have city required permits, and approvals for that use. Plan check review for other City agencies may take up to six months, therefore DCR strongly encourages all Licensees to verify that they have obtained the necessary building permits and certificate of occupancy from LADBS for the Commercial Cannabis Activity at the Business Premises, otherwise, building permit plans will have to be submitted to both LADBS and LACDPH. Please remember that a Health Permit will be a requirement to obtain an Annual License.
Appointments for Site Evaluations are on a first-come, first-served basis. Please note that when LACDPH begins inspections of cannabis facilities in its unincorporated areas of the county in June 2023, wait times for appointments will be longer. Additionally, the next round of License renewals beginning in September 2023 will require all Licensees to possess a permit from the LACDPH.
Steps to begin the Site Evaluation Process:
Review requirements for Site Evaluation and ensure your facility meets these requirements.
Submit a completed application to County's Cannabis Compliance and Enforcement Program (CCEP) at ccep@ph.lacounty.gov
Application reviewed within 7 business days
The applicant will be contacted and sent an invoice ($334 per activity). Licensees can either mail in both invoice and payment to CCEP or pay in person at Baldwin Park headquarters.
If the facility does not meet the requirements, a set of complete plans drawn to scale must be submitted along with the Plan Check Application Form with payment of the Cannabis Facility Plan Check Fee
For additional questions regarding the LACDPH Emblem Placard Program and related Health Inspections, please contact:
Cannabis Compliance and Enforcement Program
5050 Commerce Dr.
Baldwin Park CA 91706
Phone: 626-430-5635
Email:ccep@ph.lacounty.gov
LADPH Cannabis Facilities Online Information