Posted on 12/23/2022

Seasons Greetings,
The Department of Cannabis Regulation (DCR) congratulates our new Mayor Karen Bass and looks forward to working with her to reach her top goals. DCR has made significant strides towards efficiency and its mission to create a socially equitable cannabis industry in the City of Los Angeles. This year's challenges presented opportunities for DCR to reinvent and recreate processes to improve DCR's operations and the legal cannabis market.
Our successes include the recent administration of the Phase 3 Retail Round 2 Lottery, in which 100 Social Equity Individual Applicants were randomly selected to apply for retail cannabis licenses. This project was a direct result of months of planning and feedback from the Mayor's Office,City Council, and other stakeholders. DCR also overcame a legal challenge attempting to halt the Lottery.Our Social Equity Program team is now working with these 100 individuals to ensure they have access to DCR's valuable educational, legal, and grant resources specifically designed to bolster business success.
Another major success included the creation of the Compliance and Enforcement Division (CED), authorized by the City Council earlier this year.Since its inception, CED has revamped the Complaint Portal and worked with licensed cannabis retailers moving through the public health inspection and Emblem Program with the Los Angeles County Department of Public Health.
Additionally, DCR's licensing team has steadily increased output. There has been a nearly 40% increase in the number of licensed cannabis businesses from 2021 to date. Based on feedback from stakeholders, applicants and licensees, the licensing staff in partnership with the DCR Executive Team, has also made numerous recommendations for updates to the Los Angeles Municipal Code to streamline licensing processes.
Finally, I want to thank DCR's staff and its lawyers from the Los Angeles City Attorney's Office for their hard work and ever-impressive dedication to the goals and mission of this Department. Through them and the support of, and collaboration with our stakeholders, the Cannabis Regulation Commission, City Council, and the Mayor, DCR has made tremendous strides serving its constituents and community members, while at the same time fostering the success of a growing and equitable cannabis industry from which the entire City of Los Angeles benefits.
Regards,

Michelle Garakian
Interim Executive Director
City of Los Angeles Department of Cannabis Regulation
2022 in Review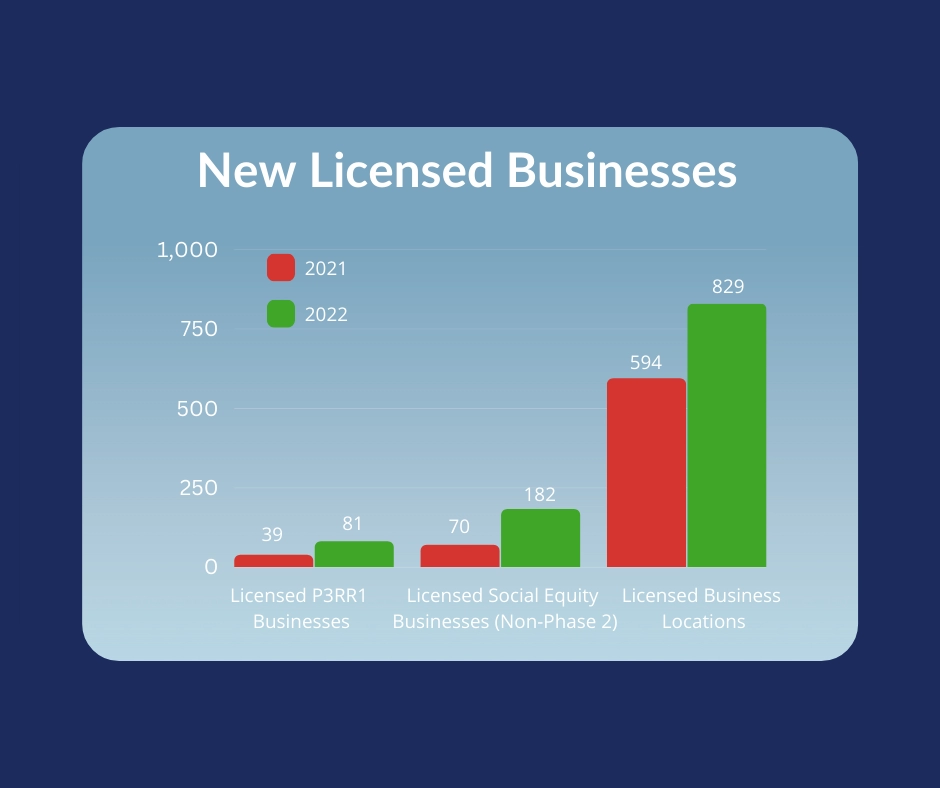 Licensing - 2021 v 2022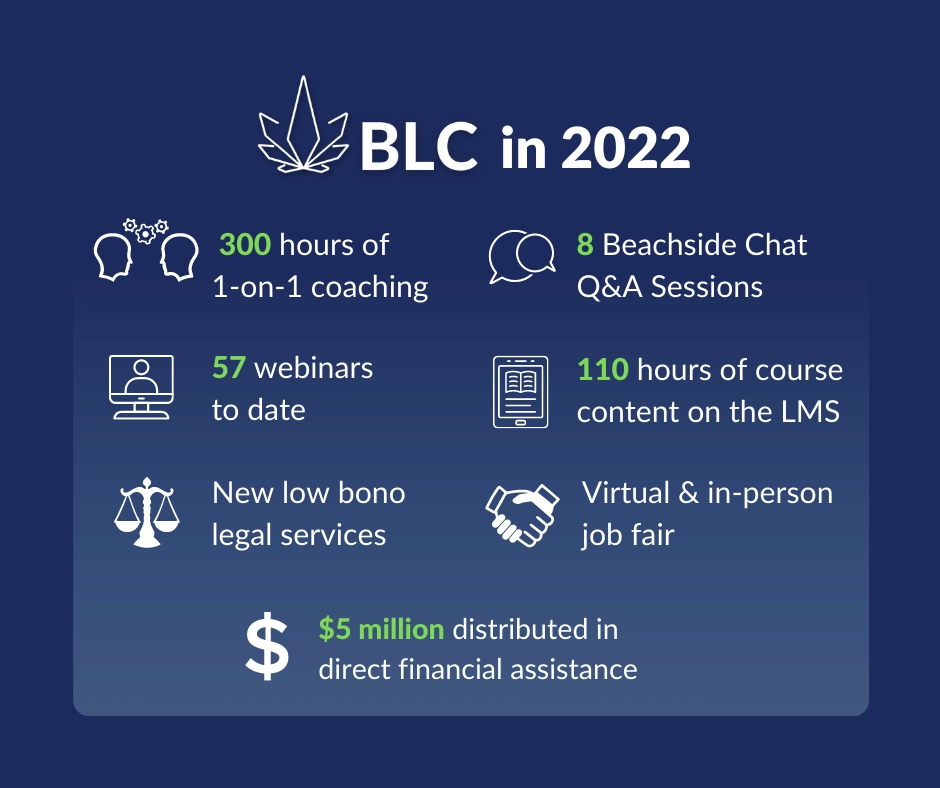 Social Equity Program - 2022 Review
The BLC offers hundreds of hours of coaching and countless other resources to help selected SEIAs succeed.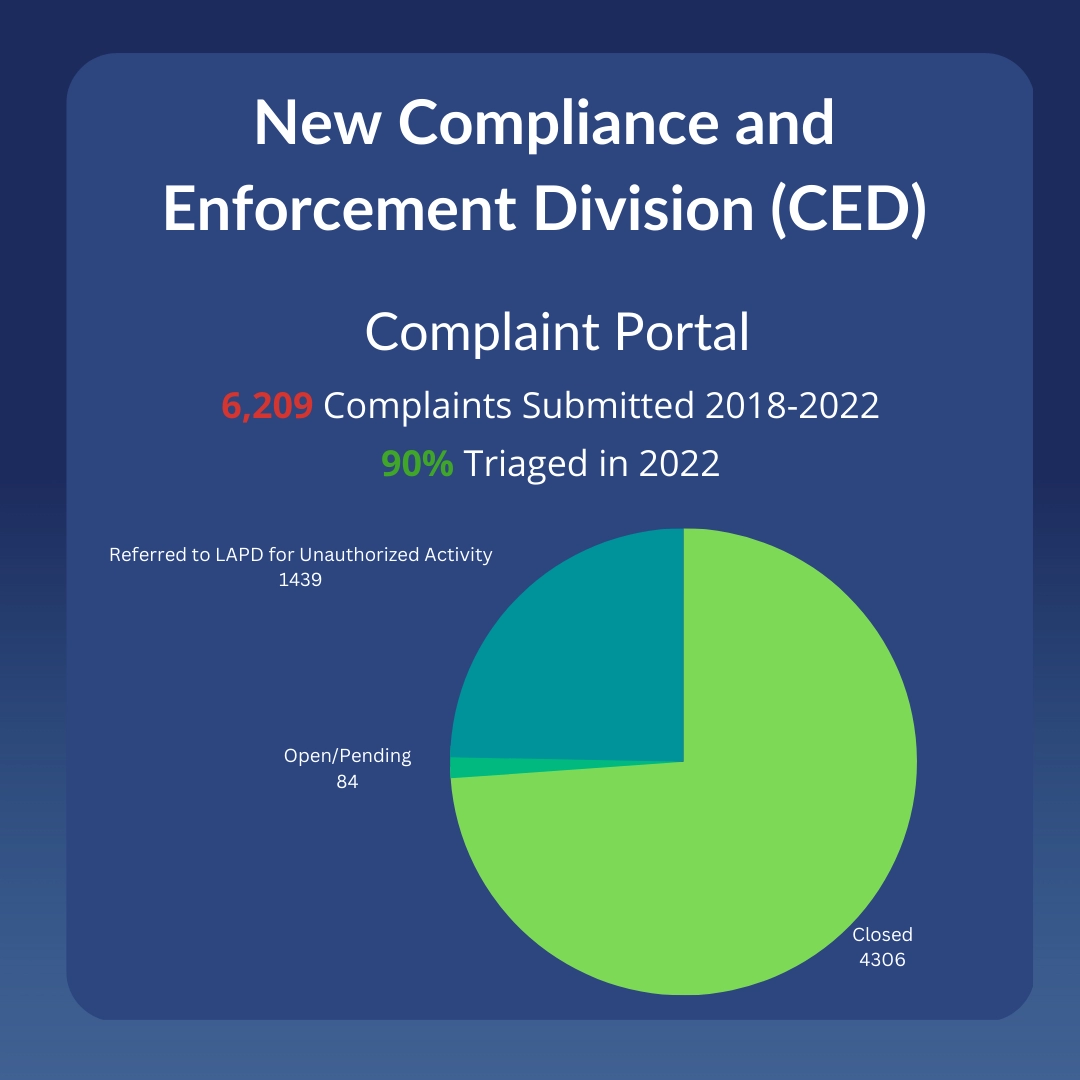 The new Compliance and Enforcement Division (CED) has triaged 90% of all complaints submitted through the portal between 2018-2021.
SOCIAL EQUITY PROGRAM
Administration of Retail Application Lottery
On December 8, 2022, the Department of Cannabis Regulation (DCR) successfully conducted the retail application lottery, also known as the Phase 3 Retail Round 2 Lottery (Lottery) which selected 100 verified Social Equity Individual Applicants (SEIAs) for the opportunity to apply for a cannabis retail license in the City of Los Angeles.
The Lottery was the culmination of nine months of planning, including aprocess that allowed individuals to request verification as a Social Equity Individual Applicant (SEIA). More about the verification process can be found here.
For specific details on the administration of the Lottery including the triple-blind random selection process and information on an auditor's review of the process, please read the Lottery update.
Social Equity Program Welcomes the SEIA Class of 2022
DCR's Social Equity Program (SEP) welcomed more than 500 newly verified Social Equity Individual Applicants (SEIAs) to its program this November. During the SEIA verification period from May to July 2022, more than 1,000 individuals requested verification as an SEIA and more than 500 SEIAs met the criteria to participate in the SEP.
In December 2022, Dr. Imani Brown, Director of the Social Equity Program, earmarked grant funding to waive certain application fees for the 100 SEIAs selected in the Lottery.
As part of the SEP program, DCR offers tools and resources to SEIAs to help them fast-track their business development model and apply real-world, practical information on best practices directly to their businesses. In addition, the SEP offers financial grant opportunities, business coaching, legal resources, and educational courses, among other programming exclusively available to SEIAs.
For more information on the SEP, visit our website here.
DCR's Social Equity Program Wins Legal Battle
On November 30, 2022, a lawsuit was filed in federal district court challenging the Lottery. The lawsuit is part of a nationwide trend of coordinated legal proceedings seeking to dismantle social equity programs like the City's.Following a hearing on December 7, the Court denied the plaintiffs' application for a temporary restraining order (TRO) and ruled that the Phase 3 Retail Round 2 Lottery could proceed. The City will continue to fight this lawsuit in court.
Additional Lottery Opportunity
Unless there is a policy change, DCR is planning for an additional SEIA verification process and subsequent lottery in 2023. Lottery and verification timelines and requirements are subject to change based on ongoing litigation and/or City Council action.
LICENSING
Licensing Update
To date, DCR has issued licenses to 829 unique business locations (business can hold more than one license type). There are 81 Phase 3 Retail Round 1 retail businesses currently licensed - an increase of 107% since 2021 - as well as 182 other licensed cannabis businesses (Non-Phase 2). Phase 3 Retail Round 1 and 2 licenses are reserved for SEIAs.
Year to Date Licenses by Activity:

DCR'ssocial equity licensing has met the following milestones:
32% of all Licenses issued are issued to Social Equity Applicants;
Nearly 50% of Licenses issued since Phase 1 have been issued to Social Equity Applicants;
72% of Licenses issued since Phase 2 have been issued to Social Equity Applicants.
Ordinance Amendments
A draft ordinance was adopted by the Los Angeles City Council on Tuesday, December 13, 2022, which once effective, will allow certain relocations and for SEIAs to aggregate their ownership interests to meet the required social equity thresholds. DCR will begin processing relocations once the ordinance becomes effective, pending Mayoral approval.
DCR transmitted a report to the City Council with other proposed ordinance amendments on December 2, 2022. DCR first recommended many of these ordinance amendments in earlier reports released in 2019, 2020, 2021, and April 2022. These reports were the result of many months of meetings with stakeholders, licensees, and Council Offices on the status of DCR's regulatory program in the context of the State's provisional license deadline. After March 31, 2023, the State's cannabis agency will no longer accept provisional license applications from Social Equity Applicants. To apply to the State for a provisional license, applicants must have Temporary Approval or an annual license from the City first.After January 1, 2026, all licensees without a State-issued annual license will be forced to cease all commercial cannabis activities, even if they have a City-issued license. The City may experience adverse impacts associated with loss of licensure as well as a sharp decline in cannabis tax revenue in 2026 if it does not take proactive steps now to facilitate applicants' transition to the State's annual licensure process.
Please note that DCR proposed an amendment to sunset SEIA status for those verified in 2019, but the amendment has not been approved by either the Planning and Land Use Management Committee or City Council and is therefore not law.
For a more in depth look at licensing activity, please visit our website.
Compliance and Enforcement
Emblem Program
Identifying legal cannabis retail stores will be made easier with the implementation of the Los Angeles County Department of Public Health Inspection Program and Emblem Program. The program, intended to protect consumers from the sale of untested and unregulated cannabis products by unlicensed cannabis businesses, began its roll out in the summer of 2022.
These public health inspections, although initially rolled out on a voluntary basis, will become a requirement when DCR begins its Annual Licensing process.DCR urges retail cannabis businesses with Temporary Approval to sign up for inspections as soon as possible. These inspections are required to obtain a Public Health Permit and an Emblem Placard which notifies the public that the retail facility has received all required state and local licenses and approvals.
For more information, please click here.
Cannabis in Your Community: Partnering on Progressive Enforcement
DCR is committed to helping tackle illegal activity in communities across Los Angeles. Through a series of virtual town hall meetings, DCR brought community members and the Los Angeles Police Department (LAPD) together to engage in a robust and honest discussion about illegal activities in their communities and ideas on how to combat them. These virtual town halls were held in October and November 2022 and will serve to inform DCR as it makes recommendations to the Cannabis Regulation Commission and City Council. A report with program findings will be released in January.
Complaint Portal
The Complaint Portal is an online system for community members to report suspicious activity in regards to unlawful or non-compliant cannabis activity.To date, 98% of all complaints have been referred to LAPD or other agencies, or have been reviewed, and closed.
CED has been working throughout this year to rework the Complaint Portal to allow individuals submitting complaints to track the progress of their entry.
COMMUNICATIONS AND POLICY
Website Update
The DCR compliance web page has been updated, check it out here and the SEP team launched the BLC website, click here for more.
In the News
DCR's SEP hosted its inaugural in-person networking mixer, LA Cannabis Unite for Los Angeles, which was well attended by cannabis businesses and stakeholders. Watch Channel 35's LA This Week story here.
President Biden Grants Pardons
On October 6, 2022, President Joe Biden released his Proclamation on Granting Pardons for the Offense of Simple Possession of Marijuana. DCR celebrates this action to pardon federal convictions for cannabis possession.
DCR recognizes that the burden of cannabis criminalization is not borne equally by all communities and applauds the actions by the President which will provide many with a renewed chance at jobs, education, and other opportunities.
California Senate Bill 51
Senate Bill 51 was introduced by California State Senator Steven Bradford earlier this month. The goal of the bill is to indefinitely extend the State's ability to issue cannabis provisional licenses for local equity applicants. The current deadline is June 30, 2023, and will prove detrimental to applicants who are unable to receive Temporary Approval before that deadline. DCR drafted a support resolution on December 7 which was introduced during the Los Angeles City Council meeting on December 9 by Councilmembers Marqueece Harris-Dawson and Curren D. Price, Jr., and seconded by Councilwoman Nithya Raman.
ADMINISTRATION
DCR currently has a staff vacancy rate of 37.3% as 37 of 59 authorized positions are filled.In order to reduce its vacancy rate below 20%, DCR needs to fill 11 additional positions to reach a staffing level of 48.
Beginning the week of January 30, DCR will re-open the Public Counter on Tuesday and Wednesday from 10am to 3pm
P.S.

Find a Licensed Cannabis Retailer here.
In Other City News:

LA for All is a campaign against hate and encourages all to speak up and speak out against hate crimes and hate incidents. The campaign meets at the intersection of art, advocacy, and community and you will see this campaign on LA City parks, libraries, street banners, bus shelters, LA Metro bus and rail, our airports and elsewhere.
You can join the campaign, too! Learn more here.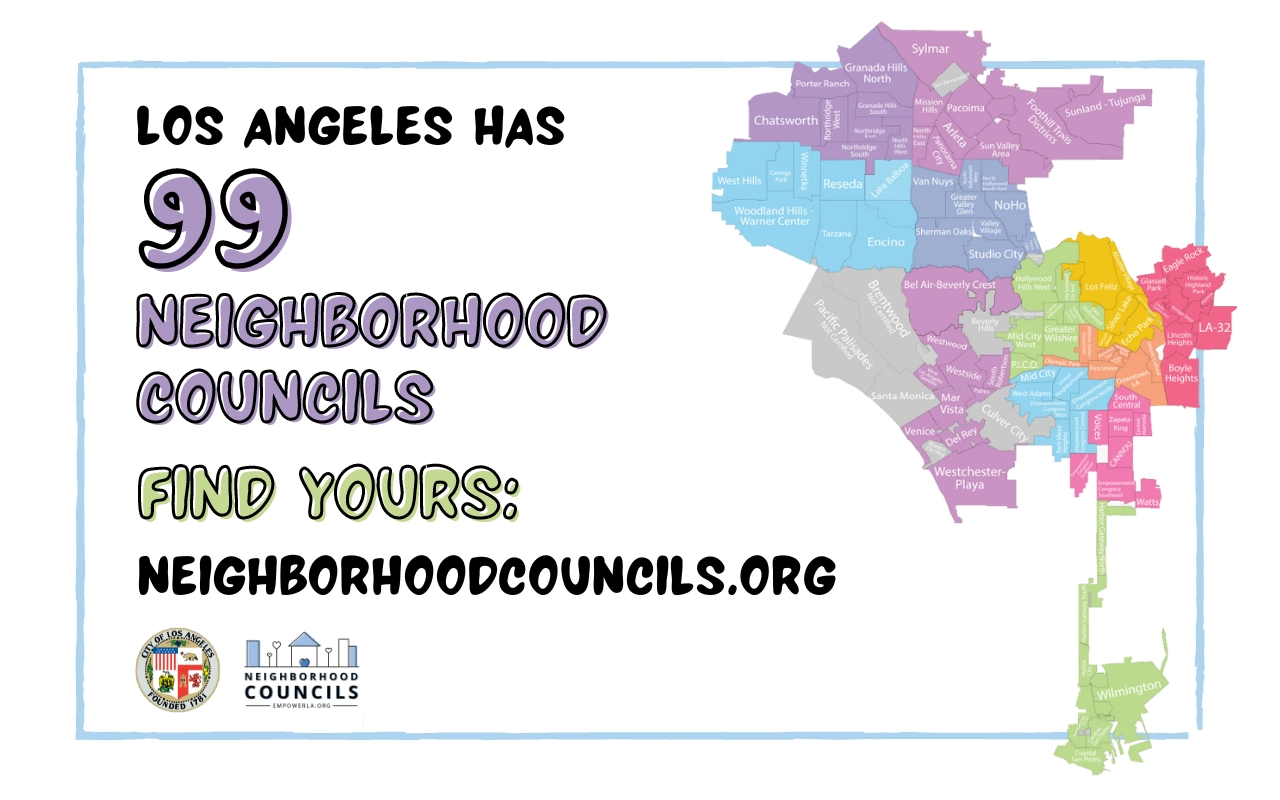 Los Angeles has 99 Neighborhood Councils serving every community in the City. Together, Neighborhood Councils (NC) are the grassroots level of the City government, and ensure that local voices and local perspectives on issues are heard at City Hall.
Elections for 94 of L.A.'s 99 Neighborhood Councils are happening now through June 2023! Learn more about how to file in an NC Candidate Info Session here. You can also look up which Neighborhood Council you belong to, and how you can get involved.